Shares of William Lyon Homes Rise After IPO
Thursday, May 16, 2013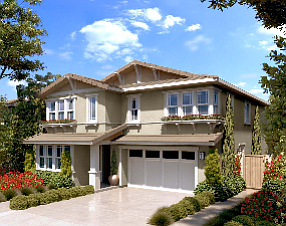 Shares of Newport Beach-based William Lyon Homes were trading above their offering price on Thursday, following the homebuilder's return to the New York Stock Exchange.
William Lyon Homes raised $217.5 million in an initial public offering Thursday, pricing its Class A common stock at $25 per share. That was above the $22 to $24 per share range previously expected for the company's IPO.
Shares of the company were trading at about $26 as of mid-day Thursday, giving the company a market value of about $800 million, factoring in Class B common stock.
The IPO marks a quick turnaround in fortunes for long-time area company, which went private in 2006 and later felt the brunt of the last housing downturn, which resulted in a short stint in bankruptcy that ended early last year.
About a third of the money raised from the IPO will go directly to private equity firms that helped recapitalize the builder following last year's restructuring.
The rest of the IPO proceeds will be used by the builder for buying land and other corporate purposes.
William Lyon Homes is the third builder to go public this year. Irvine-based TRI Pointe Homes Inc., whose executive team included former Lyon employees, was the first, raising about $233 in its January IPO.
TRI Pointe counts a current market value of about $600 million.
Newport Beach-based City Ventures Inc. said last week it had confidentially submitted a draft registration statement to the Securities and Exchange Commission for a possible IPO.
Terms of the potential IPO for City Ventures, one of the region's most aggressive buyers of land since its 2009 formation, have not been disclosed.