Pacific Mercantile Has Q1 Loss
Wednesday, May 15, 2013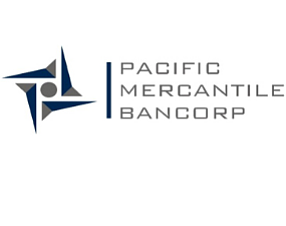 Costa Mesa-based Pacific Mercantile Bancorp reported a net loss of $3.2 million in the first quarter, compared with the $1.4 million profit the same time a year ago.
Shares of the company were off about 1.4% Wednesday morning.
The holding company of Pacific Mercantile Bank attributed the loss to several factors, including higher provisions for loan losses and decreased income from having exited the wholesale residential mortgage business last year.
The company had $6.2 million in net interest income after provisions for potential loan losses, down by about 26% from a year earlier.
Noninterest income totaled $2 million, down 66%.
Pacific Mercantile had $1.02 billion in assets as of March 31, down slightly from a year earlier.
The company had about $715 million in gross loans, a 4% gain from a year ago.
Deposits fell about 6% to $816 million.
Pacific Mercantile's new chief executive, Steven Buster, said the bank is shifting its focus from "problem loans and a workout management style" to strengthening its lending.