BIGGEST TURNOVER IN 21-YEAR HISTORY
OC 50: New Faces of Influence
Saturday, May 11, 2013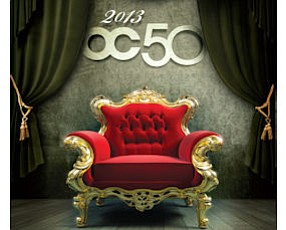 This year's OC 50 has an unprecedented infusion of new blood.
The Business Journal's annual inventory of the most influential members of the business community here features a turnover of about 20% from last year, with 11 new members and 10 new entries.
There are actually 55 individuals on the list, thanks to five dual entries in cases in which two executives are closely bound by professional circumstances or family ties.
Plenty of familiar names remain—from Argyros, Bren and Creed to Sun, Tu and Ueberroth.
The turnover, meanwhile, comes in part on a wave of retirements and transfers—and a firing in one case. One-time perennial members of the list who retired in the past year include John Coyne, who said goodbye as chief executive of Irvine-based data storage products maker Western Digital Corp.; Thomas McKernan, who gave up the chief executive's post at Automobile Club of Southern California in Costa Mesa, where he retains the title of chairman of the mutual benefit corporation; and Jim Mazzo, who stepped down as president of Abbott Medical Optics Inc. in Santa Ana after a long run in charge of a key company in OC's concentration of ophthalmological businesses (see related story, page 3).
A couple of other spots came open with other personal moves. Susan McGalla was fired as chief executive of Foothill Ranch-based retailer Wet Seal Inc. after a little more than a year. George Kalogridis gave up his post as president of the Disneyland Resort in Anaheim for the same position with the Walt Disney World Resort in his home state of Florida.
Some other entries fell off the list based on our annual recalculation of the local landscape, which includes a best effort to gauge the waxing and waning fortunes of executives, their companies and industries.
Some of the open spots were filled by replacements for executives who retired or were transferred—Kalogridis' successor, Michael Colglazier, took a spot on the list based on the overarching importance of the Disneyland Resort as OC's main driver of tourism and largest employer.
Steve Milligan got similar consideration as the successor to Coyne at Western Digital, the world's largest maker of disk drives.
A reconsideration of the importance of the local healthcare industry in general and hospitals in particular—combined with an action-packed year in the sector—led to several more newcomers. Richard Afable made the list based on his recent appointment as chief executive of Irvine-based Covenant Health Network.
Prev Next