APPAREL: CAMPAIGN FOR TRAINING GEAR TARGETS FEMALES AS GROWTH MARKET
Oakley's Not Just About Sunglasses—Or Men
Saturday, May 11, 2013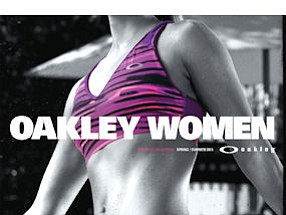 Selling a bra is obviously not the same as selling a pair of sunglasses.
Executives at eyewear and apparel maker Oakley Inc. get it—and they hope to grow women's apparel sales with a focus on activewear and a new side to the company's bold attitude.
"We need to make this happen, and it's a matter of driving the business that way, but that means some shifts in attitude and speaking to women differently," said Josee Perreault, who oversees women's optical and apparel sales as Oakley's senior vice president of global business.
The company recently released a marketing campaign called "Made For More" for its women's training gear, poking fun at the trend of workout gear that's being pushed for leisure by some other brands.
Oakley Chief Executive Colin Baden, said he believes the company has the upper hand in women's apparel based on the brand's current position in the market.
"With 35 years of product design and innovation in sports, Oakley has a competitive advantage to deliver 100% performance and 100% style to this key demographic," said Baden, who's featured in this week's OC 50, our annual list of influential executives here (listings start on page 29).
The company's women's business—including optical and apparel sales—represents just 10% of its more than $1 billion in annual sales. Baden said that leaves plenty of room for growth—provided Oakley can overcome the perception that it's a male-centric brand.
"As an organization, we expect to deliver double-digit sales growth for the next three years," he said. "If we can continue to build our women's brand within that objective, we would be very happy."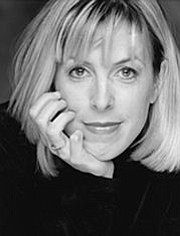 $14B
Oakley's women's apparel lines—organized into clothing for training, snow, swim and golf—have been around for a few years, but company executives decided Oakley needed to retool its approach to women in order to grow the business. Focusing on activewear made sense, Perreault said, because of the industry's $14 billion in annual sales.
Marie Case, cofounder of Board-Trac Inc., a Trabuco Canyon-based action-sports marketing consultant and researcher, said she believes Oakley should be able to successfully cross that hurdle.
"The Oakley brand is a solid brand," she said. "It represents something to the consumer. It represents good quality. It represents performance. It represents, to a degree, good styling. Women in that segment, if there's any brand loyalty, they're already familiar with the company's eyewear."
Perreault also said as much, adding that the company's point of differentiation among other women's activewear brands is Oakley's position in the eyewear market.
Prev Next