Knott's Drives Q1 Revenue Gain for Cedar Fair
Friday, May 10, 2013
Share this article: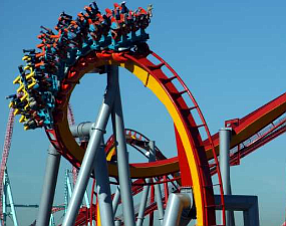 Buena Park amusement park Knott's Berry Farm helped drive an increase in first-quarter revenue for its parent Cedar Fair LP.
Sandusky, Ohio-based Cedar Fair owns 11 amusement parks, five water parks and five hotels in California, Ohio and North Carolina, among other states. Most of the company's parks are open seasonally with Knott's Berry Farm the only year-round operation.
The company saw a net loss in the quarter ended March 25 of $109.1 million, widened from $65.4 million in red ink for the year-earlier period. Its first-quarter typically represents less than 5% of the company's full-year results with revenue realized during a roughly 130-day period beginning in the second quarter, due to the seasonality of its business.
Cedar Fair's net revenue jumped 48% to $41.8 million during the quarter, which the company attributed to increased per capita spending at Knott's Berry Farm.
The company doesn't break down attendance for its parks, but spotlighted improvements made at Knott's Berry Farm during its quarterly earnings call after the market closed Wednesday.
"Our management team at Knott's Berry Farm has done an excellent job over the past year in revitalizing the park and enhancing the overall guest experience," said Cedar Fair Chief Executive Matt Ouimet. "These efforts, combined with a compelling new marketing campaign that brings the park back to its farm roots coupled with our new e-commerce platform, resulted in increased attendance and guest spend during the first quarter of 2013."
Knott's is set to add three new rides to its Boardwalk-themed area later this month.
Cedar Fair's Knott's Soak City next door to Knott's Berry Farm will open for a season run from May 18 to Sept. 2.
Cedar Fair's shares were trading about flat Thursday afternoon to a market value of $2.36 billion.