Disneyland Resort Sees Strong Attendance
Friday, May 10, 2013
Share this article: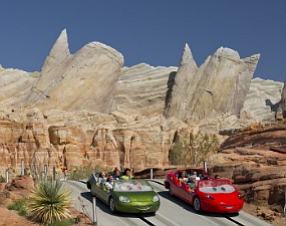 The Disneyland Resort in Anaheim, along with Burbank-based Walt Disney Co.'s other domestic parks helped boost the company's performance during the second quarter.
Attendance at the two parks in Anaheim's Disneyland Resort continued to be about evenly distributed—a goal the company had in mind when it spent about $1 billion to makeover Disney California Adventure. The redo was officially completed last June with the unveiling of the new Cars Land and Buena Vista Street.

"Attendance in our Disneyland Resort is now more evenly split between Disneyland and California Adventure, a strategic goal of our investment in that expansion," Disney Chief Executive Robert Iger told analysts this week.
California Adventure saw lackluster attendance prior to the expansion, with most of the traffic filtering to neighboring Disneyland.
The Disneyland Resort set an attendance record during the March quarter, as did Walt Disney World in Florida, the company said.
Disney doesn't break out attendance or revenue for its individual parks. However, the company's parks and resorts division—which includes domestic and international properties—saw revenue for the second quarter ended March 30 up 14% to $3.3 billion.
The division saw $383 million in profit, up 73% from a year earlier.
The overall company saw net income of $1.5 billion on revenue of $10.6 billion in the March quarter.