STEC Sales Fall, Loss Narrows in Q1
Wednesday, May 8, 2013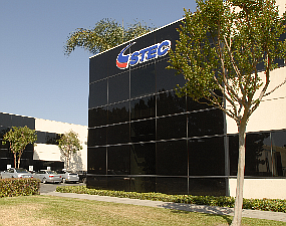 Santa Ana-based disk drive maker STEC Inc. on Wednesday reported first quarter revenue in line with Wall Street expectations and a loss slightly lower than consensus estimates.
The company posted sales of $22 million, down 56.3% from a year earlier.
It recorded a net loss of about $19 million compared to a net loss of $7.8 million a year earlier.
Analyst on average had forecast a loss of $19.6 million.
STEC makes flash memory drives for corporate data networks. The products are known as solid-state drives and use chips instead of spinning disks to store data.
The earnings report comes amid major upheaval at STEC, which is facing a looming proxy battle at its May 13 shareholder meeting with a group of dissident investors who have questioned the direction of the company under the management team and board.
Talks to avert the proxy battle with San Francisco-based private equity firm Balch Hill Capital LLC and Potomac Capital Advisors in New York broke down in March. Balch holds a 9.8% stake in STEC, and Potomac has a roughly 1% stake.
Balch Hill wants to replace all seven of STEC's board members and has called for a sale.
The dissidents have criticized STEC's decision to respond to increased competition by going into new product lines and boosting spending on research and development, with little to show.
STEC recently announced newly established sales programs targeting end users in a bid to win more business in various sectors, including financial services, oil and gas, and telecommunications.
The bid for sales to end users would supplement the company's focus on original equipment makers, which install the company's solid-state drives into data centers and computers.
"Focusing our efforts on selling SSDs as a component to a limited set of OEM customers in a market that has attracted much larger and more vertically integrated competitors has created challenges for us," Interim Chief Executive Mark Moshayedi said. "As we continue to execute our plan, our target is to achieve a sales mix by year-end with about half of our revenue coming from traditional OEM customers and the other half coming from non-OEM customers."
Mark Moshayedi replaced his brother Manouchehr Moshayedi, who resigned last year after the Securities & Exchange Commission levied accusations of insider trading.
That investigation is still pending.
STEC gave a revenue and profit outlook for the current quarter.
The company projects sales in the range of $23 million to $26 million, in line with Wall Street expectations.
It projects a loss between $19.1 million and $20.1 million.
Analyst on average forecast a loss of $18.2 million.
STEC shares were down 1% to a market value of $179.7 million at the close of trading Wednesday.