Midday Stock Roundup
Friday, May 3, 2013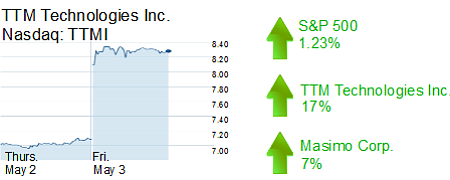 The S&P 500 passed the 1,600 mark on strong April jobs growth, rising 1.23% to 1,617.31 in afternoon trading Friday.
The Dow Jones industrial average was up 1.13% to 14,999.88, while the Nasdaq was up 1.39% to 3,386.93.
The yield on a 10-year Treasury bond jumped 6.38% to 1.74%.
The price of gold was off 0.12% to $1,466 per ounce.
TECHNOLOGY
Costa Mesa circuit board maker TTM Technologies Inc. surged about 17% to $8.27 on better-than-expected first-quarter results. TTM had a recent market value of $678.43 million.
Costa Mesa-based Emulex Corp.'s shares rose about 4% to $6.16 after beating consensus estimates on its third-quarter results. The networking equipment maker had a recent market value of $558.98 million.
Irvine-based networking equipment maker Lantronix Inc. plunged about 18% to $1.80 for a market value of $26.24 million on missed third-quarter results.
HEALTHCARE
Irvine-based Masimo Corp. shares jumped about 7% to $21.42, a day after the patient monitoring maker reported first-quarter revenue above analyst expectations and profit in line with consensus estimates. Masimo had a recent market value of $1.23 billion.
MANUFACTURING
Newport Beach-based specialty chemical maker American Vanguard Corp. rose about 7% to $30.24 for a market value of $865.23 million. American Vanguard reported record first-quarter results on Thursday, beating consensus estimates on high demand for corn herbicides and insecticides.