Taco Bell Looking to Make Value Play With $1 Menu
Thursday, May 2, 2013
Share this article: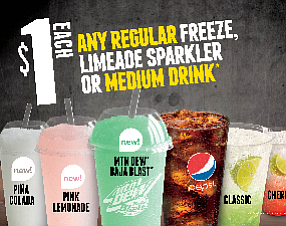 Irvine-based Taco Bell Corp. is hoping to make the case for value with a multi-pronged approach that includes testing of a new dollar menu and limited-time offers among other expanded menu items.
"You have to keep innovating or consumers won't keep coming back," said Taco Bell Vice President of Brand Marketing Chris Brandt during a call with reporters Thursday.
Taco Bell wants to position itself as an overall value play from the lower end of its menu to its Cantina Bell items that are priced around $5.
The renewed focus comes amid general interest throughout the restaurant industry in marketing quality ingredients at low prices.
Last month, Lake Forest-based Del Taco LLC launched a new Buck & Under menu, with 11 items starting at 50 cents, along with a New Tastes menu that will feature three new menu items on a rotating basis.
Taco Bell said it is testing its $1 Cravings menu in Sacramento and Kansas City restaurants. The menu could be taken nationally in what Chief Marketing and Innovation Officer Brian Niccol said would be in the "not too distant future."
"We're not through with our tests yet, but we're optimistic," Niccol said during the call.
An exact launch date has not yet been determined.
The $1 Cravings menu, if rolled out nationally, would replace Taco Bell's Why Pay More Menu, which offers products priced starting around $1.29 or $1.49.
Taco Bell is also running a Happier Hour limited-time offer between 2 and 5 p.m. daily, selling loaded grillers and medium size drinks for $1 through the summer.
The chain also said it would re-introduce its 99-cent beefy crunch burrito May 23.