Eight Builders Tapped for First Great Park Home Site
Thursday, May 2, 2013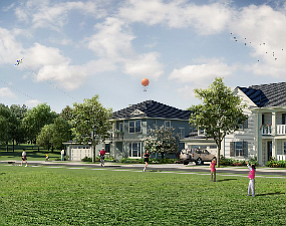 Newport Beach's William Lyon Homes is among a group of eight builders selected to build the first 726 homes at Irvine's Great Park Neighborhoods, which is set to open for sales by the end of September.
The builders, a mix of public and privately-held companies, closed on sales for the land this week, according to Emile Haddad, chief executive of FivePoint Communities Management Inc., the Aliso Viejo-based development manager of the Great Park Neighborhoods project.
Construction of the first model homes at Pavilion Park – the name given to the first part of the 3,700-acre housing and commercial development – should begin later this month.
The first home buyers at the project could move in by the end of the year.
"There's been a lot of speculation (about the fate of the development). Today, that question gets answered," Haddad said.
Joining William Lyon Homes in building homes at Pavilion Park is K. Hovnanian Homes, Lennar, Pulte Homes, Richmond American Homes, Ryland Homes, Shea Homes and Taylor Morrison.
The strong reception for the Irvine land by homebuilders – 21 firms vied for portions of the 726-home project – has prompted FivePoint to begin early-stage development work on a second neighborhood nearby, which could hold between 500 and 1,000 homes, according to Haddad.
For more details, see the May 6 edition of the Business Journal.