Allergan Tumbles on Drug Delays
Originally published May 1, 2013 at 10:03 a.m., updated May 1, 2013 at 11:36 a.m.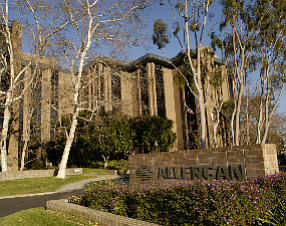 Shares of Irvine-based drug maker Allergan Inc. fell in trading today after it reported delays in an eye drug under development.
Allergan shares were down 13% to a market value of $29.5 billion.
Allergan said it expects 2013 income of $1.43 billion to $1.44 billion, compared to a previous forecast of $1.44 billion to $1.47 billion. The company said the change reflects "the dilutive impact" of its $958 million deal for Mountain View-based Map Pharmaceuticals Inc. earlier this year.
Analysts expect Allergan to post a $1.44 billion profit in 2013.
Allergan's profit excluding special items came in at $297.5 million for the first quarter, beating Wall Street expectations of $291.4 million.
Analysts' estimates generally exclude charges or gains.
Net income was down 95% to $12.4 million from $229.8 million in 2012's first quarter. Allergan said the net income shift was due to a loss of $259 million from discontinued operations -- it said it expects a signed agreement to sell its obesity intervention business by mid-year.
Allergan's total product sales (which are slightly lower than net sales) totaled $1.4 billion, in line with analysts' forecasts.
The drug maker said it would delay a late-stage trial of its Darpin drug candidate to treat age-related macular degeneration, a leading cause of blindness. It noted that a second-stage trial of Darpin showed some product differentiation over Lucentis, a rival treatment by Switzerland's Roche Holding AG but did not support Darpin directly moving to late-stage development.