EARLY PICK OF NICHE MARKET KEY TO VIRTIUM'S GROWTH
Spot On
Sunday, March 31, 2013
Phu Hoang knows how to pick his spots.
Solid-state drives were still in their infancy when he established Virtium Technology in Huntington Beach in 1997.
He didn't target the consumer market, typically the first adopters, or the corporate sector, which typically brings higher margins.
Hoang zeroed in on what's referred to as the "industrial market," offering solid-state drives geared for telecoms, and the medical, transportation, media, and automated-manufacturing sectors.
The choice was partly by design, since both the consumer and corporate segments are served by large global storage- drive makers, including Kingston Technology Inc. in Fountain Valley, which has an estimated $5 billion in annual sales.
It was partly necessity, since his startup was working its way from a consultancy to a manufacturer with nowhere near the capital needed to compete with the big players.
"We selected a market segment that we had the best chance to succeed without infrastructure," said Hoang, who subsequently moved the company to Rancho Santa Margarita. "We were profitable from month one."
Hoang was one of the entrepreneurs honored at the Business Journal's 12th annual Excellence in Entrepreneurship Awards luncheon March 20 at the Hyatt Regency Irvine.
Customers, Workers
It counts some of the world's largest companies as customers, including Alcatel-Lucent, Boeing, Emerson, General Dynamics, General Electric, IBM, Intel and Motorola.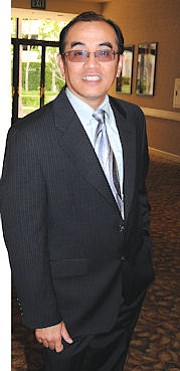 Privately held Virtium does not disclose annual revenue. It employs about 100 workers, about two-thirds of them at its 30,000-square-foot headquarters, where it handles some manufacturing and distribution, as well research and development.
The company complements operations here with some manufacturing and research and development at plants it operates in Vietnam and China.
Virtium competes in a fragmented segment that sees about $800 million in yearly sales. Demand for solid-state drives, which store memory data on chips instead of spinning disks, can be turbulent, swinging wildly from quarter to quarter.
"You have to be laser-focused in that market to do it well," Hoang said.
The drives have become a major component in tablets, PCs and other electronic devices since Apple's iPad debut in 2010.
"That's when everything started to take off," Hoang said. "You have to pick a market that's growing."
Hoang picked Orange County to establish his business after a long journey from his native Vietnam.
He arrived in Ontario, Canada, in 1984 with just a shirt, a pair of pants and flip-flops. The little English he knew had been learned at an Indonesian refugee camp that housed hundreds of Vietnamese who fled their country in the post-war years of the 1970s and '80s.
Prev Next