THIRD SALES UPTICK IN A ROW CENTERS ON APARTMENTS
Real Estate Brokers Continue Gains
Sunday, March 31, 2013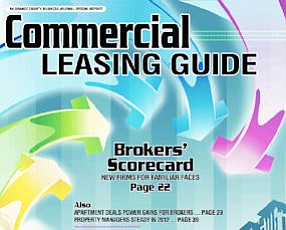 With market conditions improving, the willingness of landlords to complete those types of leases could decline, resulting in slower leasing velocity, according to Ingham, whose company took the No. 5 spot on this week's list, with $1.1 billion in deals reported last year.
The acquisition of Irvine-based boutique brokerage 360 Commercial Partners last summer—combined with an overall boost in broker productivity and the addition of a brokerage team that works on big-dollar apartment sales—helped improve JLL's rank by four spots on this week's list.
"We did nine (apartment) sales last year and have another dozen or so listings in the pipeline right now," Ingham said.
Apartments, which continue to trade at capitalization rates approaching 4%, were still the best-performing product type for area sales in OC and across the country.
Almost $84.6 billion in apartment-sale deals closed nationwide in 2012, a 47% increase over the prior year, according to Real Capital Analytics Inc., a New York-based commercial property data firm.
The companies on this week's list worked on more than 1,600 sales last year, a 17% increase in volume over 2011 levels.
Small Offices, Big Deals
Companies with few brokers were among the standout performers last year.
The Irvine office of Moran & Co., which specializes in apartment transactions, reported working on close to $1.7 billion in transactions last year—a nearly 66% year-over-year increase—good for the No. 2 spot on the list.
Officials at Moran & Co.'s OC office, which counts just four brokers, worked on a nearly $174 million deal in Northern California believed to be the largest sale of an individual apartment complex in the state so far this year.
For Orion Property Partners Inc., 2012 represented "our best year by more than (a factor of) two," said Jay Carnahan, president of the Irvine-based company, which counts seven brokers and took the No. 8 spot on the list.
Orion worked on more than $600 million in deals last year, including major leases for fast-growing companies like Anaheim-based lender CashCall Inc., fitness center operator LA Fitness and lender Greenlight Financial Inc., both in Irvine.
The company also helped in the sale of The Michelson office tower in Irvine, which set local marks with its $277 million sale last year to Toronto-based Manulife Financial Corp.
Early returns for 2013 suggest Orion is on track to beat last year's break-out year, said Carnahan, whose company was one of three brokerages on the list to report year-over-year growth in excess of 100%. The others are Jones Lang LaSalle and Colliers International, which took the No. 3 spot on the list with $1.1 billion in deals reported here last year.
---
Download the 2013 OC's LARGEST COMMERCIAL REAL ESTATE BROKERS list (pdf)
Prev Next