THIRD SALES UPTICK IN A ROW CENTERS ON APARTMENTS
Real Estate Brokers Continue Gains
Sunday, March 31, 2013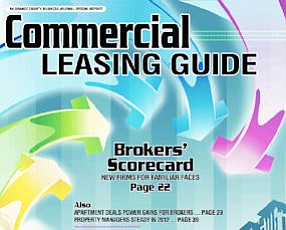 An increase in property sales, especially for apartments, helped Orange County's top commercial real estate brokerages post a third straight year of gains in 2012.
Sales and leases at the 21 largest commercial brokerage offices in the county rose to nearly $16.3 billion in 2012 from $15.5 billion a year earlier, according to the Business Journal's latest ranking of top commercial brokerages.
That's a little more than a 5% gain over year-ago levels, when our list included 20 companies, and follows an 18% increase in the prior year. This week's list would show about a 3% year-to-year gain if it included only the top 20 companies.
The latest annual ranking includes commercial property and land deals in 2012 in OC, as well as those done elsewhere by local offices.
The current streak of three consecutive yearly upticks follow four years of declines as the local brokerage industry felt the brunt of the commercial real estate downturn.
Deal activity bottomed out in 2009, when about $11.1 billion in transactions here were reported. Since then, deal-making has stepped up every year for Los Angeles-based CBRE Group Inc., whose local offices have maintained the No. 1 position on the Business Journal's annual list over that time.
CBRE's Newport Beach and Orange offices, which have about 100 brokers, combined to do a little more than $3 billion in lease and sales transactions last year. That's about 50% higher than 2009 levels.
"People are feeling more confident," said Kurt Strasmann, senior managing director for the OC operations of CBRE, whose Newport Beach office serves as the company's West Coast operations. "Big business has done well (the past few years), but now small businesses are starting to make moves, too."
"Deal flow has increased, and there's more larger-sized transactions," said Strasmann. He said office and industrial are beginning to ink longer-term leases than in prior years—another good sign for the local economy's health.
Still Not Out of the Woods?
Improved tenant confidence hasn't necessarily lead to an increase in leasing volumes so far, though, based on this week's list.
Companies on the list reported working on a combined 7,025 leases last year, only about 100 more leases than the prior year.
There's in fact potential for OC to see a decline in leasing volume, according to Jeff Ingham, senior managing director for the Irvine office of Chicago-based Jones Lang LaSalle.
The past few years saw a good share of tenants complete blend-and-extend deals—effectively early lease renewals at lower rates.
Prev Next