VILLA TAPS LOCAL VETS, DEEP-POCKETED BACKER
New Brokerage Out to Shake Up Luxury Market
Sunday, March 31, 2013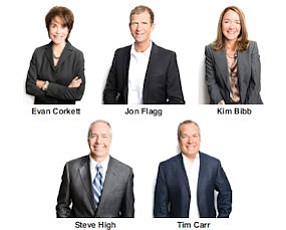 A residential real estate brokerage will launch operations in Newport Beach this week with an all-star cast of agents, a cash-flush local backer, and a high-tech bent behind its bid to become the go-to agency for luxury home sales in Orange County.
Villa Real Estate LLC will target homes along OC's coast and other high-end markets, such as Shady Canyon in Irvine.
Homes priced at more than $1.5 million are expected to be the core market for Villa, whose executive team said they plan to introduce mobile applications and other technology and marketing features in a bid to stand out from competitors.
"Real estate is a very antiquated business," said Steve High, Villa's president, and one of the five founding equity partners at the company. "We're going to offer (products) that nobody's ever seen before."
The company, whose broker roster features some of the area's better-known real estate agents, already counts about 50 employees.
"We're hitting the ground running," said founding partner Jon Flagg.
Villa executives said they expect to double their number of agents within the next few months.
"We're being selective" in the addition of brokers, said founding partner Kim Bibb, who along with Flagg comes to Villa from HÔM Real Estate Group.
High and two of the company's other founding partners, Tim Carr and Evan Corkett, were last with Coldwell Banker Previews. The three also were principals at Newport Beach-based Strada Properties, a high-end area brokerage that was sold to Coldwell Banker in 2003.
The opportunity to start a forward-thinking brokerage company that's debt-free—thanks to its deep-pocketed main investor—helped the founding partners decide to start Villa, according to the founders.
Jabara
Gary Jabara, chief executive of Newport Beach-based Mobilitie LLC, is the company's main financial backer.
"A lot of investment has been put into this," said Jabara, who set up Villa's headquarters in the same Newport Center building that holds Mobilitie's offices.
Mobilitie (pronounced "mobility") is one of the country's largest cellphone tower owners. The privately held, 7-year-old company also provides advanced enhanced cellular coverage systems and other wireless technologies.
Jabara saw a major windfall about a year ago with the $1.1 billion sale of 2,300 cell-phone towers owned by Mobilitie to Boca Raton, Fla.-based competitor SBA Communications Corp.
Jabara has since invested about $200 million in residential and commercial real estate in Newport Beach.
A few of his local buys include buildings that will serve as Villa Real Estate's satellite offices. The company plans to have locations in Corona del Mar, the Balboa Peninsula and Mariner's Mile to start with.
Prev Next