MERGERS AND ACQUISITIONS SQUEEZING OUT MIDSIZE FIRMS, CREATING CHURN
Commercial Real Estate Brokers on Roller Coaster of Change
Sunday, March 31, 2013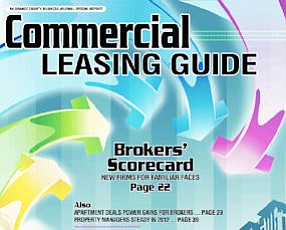 There are 707 brokers currently at the 21 largest local brokerages, and employment levels for those who help lease and sell commercial buildings and land are now approaching levels seen in 2006. That's when 727 brokers worked for the top 25 brokerages, according to Business Journal data.
Employment among the area's top brokerages has increased about 15% over the past three years.
Those figures don't include a few recently started brokerages that will be adding staff over the next few years, such as New York-based Coldwell Banker Commercial Alliance, which began operations last summer. It announced the opening of an Irvine office early in January and said it plans to hire 18 to 22 brokers there over the next two years, according to Michael Dorsey, who heads up the local office.
"Survival" Mode
While some of the changes among brokerages resulted directly from the downturn, such as last year's bankruptcy of then Santa Ana-based Grubb & Ellis, others happened as national companies moved to create bigger presences in OC and other top markets.
The brokerage industry is beginning to separate into two types of businesses, with a group of larger national players pushing to offer a wide variety of services on one end and smaller, more local brokerages with deep ties to a region or marketplace on the other, said Jeff Moore, senior managing director for CBRE Group Inc.'s OC operations.
"You can't survive in the middle (of those two groups)," Moore said.
Expect a few more large national and international brokerages to work hard to establish OC presences over the next few years and for more brokerage turnover as a result, said Jay Carnahan, president of Irvine-based boutique brokerage Orion Property Partners Inc.
"Competition is gearing up meaningfully, and not everyone is going to survive," said Carnahan, who cited Canada-based Avison Young, Cassidy Turley in Washington, D.C., and Los Angeles-based DTZ as larger companies looking to grow their OC operations.
Orion Property started in 2001 and last year had its best year ever, working on some of the area's largest office leases and sales (see story, page 31).
Carnahan said he and his partners would "never say never" to a potential sale to a larger company looking to add an experienced OC team to its operations but that it would have to be the right opportunity, similar in nature to what happened last year between 360 Commercial and Jones Lang LaSalle.
"We would consider joining a national or regional player if their business provides us the jet fuel (to grow)," Carnahan said.
Prev Next