Report: Fisker Considers BK
Thursday, March 28, 2013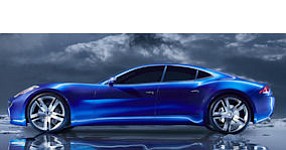 Anaheim-based luxury hybrid automaker Fisker Automotive Inc. has retained a legal team to work on a potential bankruptcy filing, according to a Wall Street Journal report based on information from "people familiar with the matter."
The report came yesterday, and followed the company's announcement that it has instituted a weeklong furlough of its U.S. employees in a bid to save cash.
The furlough affects about 200 employees, according to the company.
Fisker had more than 400 employees in Orange County as recently as a year ago. The carmaker does not disclose its total workforce, but is believed to have cut about half of its workers over the past year. The company's notice of the furloughs indicates that most of its remaining employees are in Orange County.
Speculation about a bankruptcy filing comes as Fisker faces a due date next month for payment on a loan from the federal government. The size of the payment due is not clear.
Production of Fisker's $100,000 Karma was halted last year, after the carmaker's battery supplier, A123 Systems Inc., filed for bankruptcy. Fisker has hired Los Angeles-based investment bank Evercore Partners Inc. to help search for a potential investor, and also has tapped Chicago-based Huron Consulting Group Inc. to oversee its day-to-day operations.
Production on Fisker's second model, the Atlantic, also has been put on hold, following the suspension of $335 million of a $529 million loan from the U.S. Department of Energy.
The company has struggled for the past two years, missing initial production milestones for the Karma, and falling short of sales goals once it reached the market. It's also seen top executives come and go, with Chevy veteran Tony Posawatz now chief executive.
Cofounder Henrik Fisker stepped down from the chief executive's post last year, and earlier this month resigned as executive chairman.