Nieto Gives Demo of Progress on ALS
Wednesday, March 27, 2013
Share this article: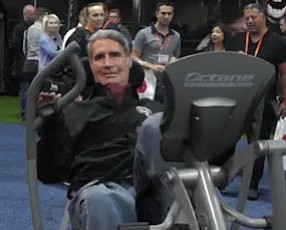 Corona del Mar resident and fitness-equipment entrepreneur Augie Nieto demonstrated the progress he has made against amyotrophic lateral sclerosis—or Lou Gehrig's disease—by riding an elliptical machine at the International Health, Racquet & Sportsclub Association's annual show earlier this month in San Diego ( click here to see video: http://videos.real.com/v/en/7r8w1a).
Nieto was accompanied by his wife, Lynne, to the IHRSA's annual event, which is known as "the Super Bowl of trade shows" for the health and fitness-club industry.
Nieto founded and served as chief executive of exercise bicycle maker Life Fitness, eventually selling his stake to Lake Forest, Ill.-based Brunswick Corp. as part of a $310 million deal in 1997.
He was diagnosed with ALS almost eight years ago and is now confined to a wheelchair.
Nieto and his family have been supporting the Cambridge, Mass.-based ALS Therapy Development Institute among other efforts they've undertaken to battle ALS under the banner of Augie's Quest, a nonprofit foundation that is part of the Muscular Dystrophy Association and has raised more than $35 million.
Nieto serves as chair of both organizations.