JWA Passenger Traffic Up in February
Monday, March 25, 2013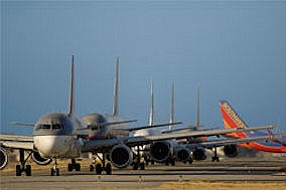 Passenger traffic at John Wayne Airport rose 6.5% in February from a year earlier, to 653,118.
Commercial aircraft operations increased 1%, with 6,202 takeoffs and landings during February.
Southwest Airlines and sister AirTran Airlines combined to handle the most passengers, with 266,324 in February. There were followed by United Airlines (111,083) and American Airlines (80,229).
General aviation operations, generally smaller craft flown for noncommercial purposes, fell 7.2% to 13,023 takeoffs and landings.
Commuter aircraft operations declined 15.8%, with 176 takeoffs and landings.