REAL ESTATE: GREENLAW EYED AS BUYER FOR 19-STORY OFFICE
Deal Expected for Central OC Tower
Sunday, March 24, 2013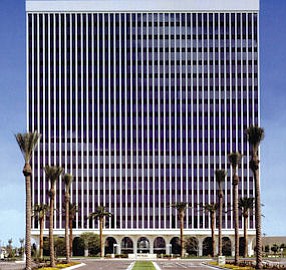 Nearby properties in Greenlaw's portfolio include the 4000 Metropolitan office that's down the street from City Plaza.
4000 Metropolitan is about 183,000 square feet. Greenlaw paid a little less than $12 million in 2010 for the building, which was largely empty at the time. It subsequently added several large tenants, including the FBI.
Crystal Cathedral
Greenlaw also made a $46 million bid in 2011 for the nearby Crystal Cathedral and its surrounding campus in Garden Grove following the bankruptcy of the ministry that owned the property. Greenlaw's bid came with an eye to develop apartments on part of the campus.
A bankruptcy judge ultimately approved a $57.5 million offer for the cathedral and its campus—which is near City Plaza—by the Roman Catholic Diocese of Orange County.
Greenlaw has worked with financial backers, including Westbrook Partners LLC in New York and Chicago-based Walton Street Capital LLC, for other recent area acquisitions. It's not known whether those groups would be part of a deal for City Plaza.
City Plaza brings in about $6.7 million in rents annually, according to Hudson Pacific's latest annual report, filed this month with the Securities and Exchange Commission.
Monthly rents at the building average about $2 per square foot.
Tenants besides CashCall include two of the largest law firms in the city of Orange—Walsworth Franklin Bevins & McCall LLP and Brady, Vorwerck, Ryder & Caspino.
Litigation
Brady, Vorwerck—which counts about 27 local lawyers and 60 total employees—is currently in litigation with Hudson Pacific over the status of its 10-year lease at City Plaza.
The law firm alleges that the safety of its employees and clients is at risk due to questionable behavior by other tenants—believed to be CashCall employees—at the building and says the landlord has not done enough to improve security at the office.
Representatives of Hudson Pacific allege the law firm is using CashCall as a scapegoat to get out of its lease.
Michael Caspino, a partner at Brady, Vorwerck since its inception in 1996, said his firm intends to leave City Plaza, regardless of a change in ownership and is focusing on a few locations close to John Wayne Airport.
Prev Next