REAL ESTATE: GREENLAW EYED AS BUYER FOR 19-STORY OFFICE
Deal Expected for Central OC Tower
Sunday, March 24, 2013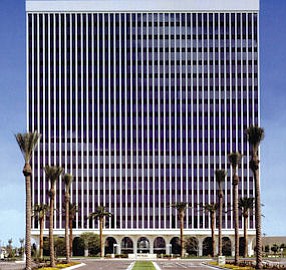 The City Plaza tower in Orange is up for sale, and a Newport Beach-based real estate investor is said to be part of the group expected to buy the 19-story office.
The 334,000-square-foot building—which fronts the Garden Grove (22) Freeway next to the Outlets at Orange shopping center—is in the process of being sold, according to documents sent to tenants at the office last week.
An expected price for City Plaza, one of the larger and most prominent offices in Central Orange County, has not been disclosed.
A deal in the $75 million range—about $225 per square foot—or higher would appear likely, based on other recent Orange County office sales of largely full buildings.
The building's current owner, Los Angeles-based Hudson Pacific Properties Inc., paid close to $50 million for the then-financially distressed property in 2008; it had been valued at more than $100 million a few years earlier.
Bixby Office Park
The priciest office sale in OC so far this year was the $85 million sale of Seal Beach's Bixby Office Park, a three-building complex just off the San Diego (405) Freeway and next to Seal Beach Boulevard.
Parallel Capital Partners Inc., a San Diego-based commercial property investor, last month said it paid about $286 per square foot for the 297,241-square-foot complex, which is said to be 98% leased.
Hudson Pacific bought the City Plaza tower at 1 City Blvd. W. when it was about 45% full.
Regulatory filings show the company has spent about $6 million on improvements to the property. It is now about 85% occupied and counts Anaheim-based mortgage and consumer lender CashCall Inc. as its largest tenant.
Hudson Pacific executives said earlier this month in a call with analysts that they had seen "very good interest" in City Plaza—its only office in OC—from prospective buyers.
CashCall Lease
CashCall signed a 125,208-square-foot lease at the building last year in one of the county's largest office leases of 2012. The fast-growing company is said to be considering expanding further there, and CashCall has its name atop the building.
Tenants of the building last week said they were expecting to meet with the prospective new owner in a matter of days; two of the tenants said they were told that Newport Beach-based Greenlaw Partners LLC was buying the office.
The privately held real estate investor and developer could not be reached for comment last week.
Greenlaw and its investment partners currently own office properties in Orange and Anaheim that total about a half million square feet of space.
Prev Next