MARKETING: YORBA LINDA PAIR CARVE DIRECT-SALES NICHE
Busy Moms' Accessory: Entrepreneurial Spirit
Sunday, March 24, 2013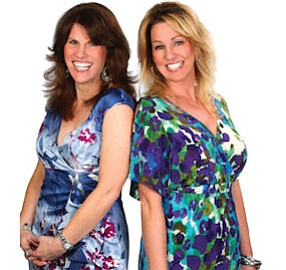 The founders of Yorba Linda purse and accessories company Gigi Hill Inc. bonded 10 years ago on the sidelines of a soccer field during their daughters' games.
That's where President Monica Hillman and Chief Executive Gabrielle DeSantis-Cummings got the idea to start their company, which is projected to nearly double in sales this year to $20 million, thanks to a growing roster of about 2,000 independent sales representatives—the company calls them "stylists"—and an expanding product lineup.
"We talked business while talking about our kids, and ultimately we decided to join forces," DeSantis-Cummings said.
Gigi Hill does business in the direct-selling channel—which saw U.S. sales up about 5% in 2011 to $29.9 billion, according to the most recent data from the Washington, D.C.-based Direct Selling Association. Companies in that segment make their products and sell them directly to consumers.
The Business Journal estimates the company had $10 million in sales last year.
Direct Sellers, Market
The direct-selling segment of the retail industry includes Tustin-based jewelry company Cookie Lee Inc., with sales of more than $200 million. The Pampered Chef Ltd. of Addison, Ill., has more than $500 million in revenue. Then there's New York-based Avon Products Inc., with more than $11 billion in sales.
Gigi set out to find room in the market with tote bags and has since grown to about 500 items ranging from business-card holders to rolling luggage with prices between $5 and $259.
It counts 29 workers at its Yorba Linda headquarters.
Salespeople hold house parties or other gatherings, where they sell products to friends and relatives.
Hillman and DeSantis-Cummings say they chose the direct-selling model almost right from the start.
"We stuck our toe in retail for about half a day," DeSantis-Cummings said. "We went to a retail trade show, and about halfway through the day, we said, 'no.' We knew we were in the right place with direct sales. We are busy women. We have families. We have commitments. We wanted to create a business that worked with our lifestyle, and that's what we set out to do, and that's what we created."
The two began researching the direct-sales model in 2005 and launched their first house party a year later.
The next couple of years were spent refining the parties and the company's products.
In 2008, Gigi Hill found an angel investor who put $250,000 into the company at a time when it had about $80,000 in sales. The funding helped take the company national the following year.
Prev Next