Doti's Latest Role: Soap Opera Player
Thursday, March 21, 2013
Share this article: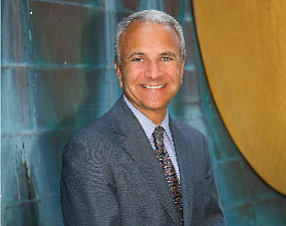 Chapman University President Jim Doti can add another skill to his resume: acting.
Doti earlier this week played a guest role in an episode of CBS daytime drama The Bold and the Beautiful.
His star turn came at the invitation of show producer Casey Kasprzyk, a Chapman graduate.
Kasprzyk started his career at CBS as an intern, an opportunity he got through Chapman, and has since been part of the Bold and the Beautiful's three-time Emmy Award-winning production staff.
Doti, who had four lines, said the cast and crew nicknamed him "One-Take Doti."
The episode is scheduled to air at 1:30 p.m. on May 7.