Business Journal Honors Excellence in Entrepreneurship
Thursday, March 21, 2013
Share this article: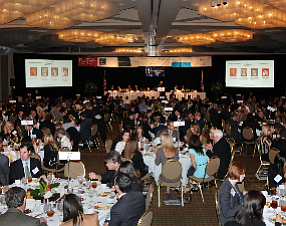 Members of the Orange County business community celebrated the winners of the Business Journal's 12th Annual Excellence in Entrepreneurship Awards on Wednesday.
They also got a lot of advice on how to succeed.
Keynote speaker and previous EIE honoree Sheldon Razin, chairman and founder of Irvine-based healthcare information systems specialist Quality Systems Inc., shared his "business one, two, three" recipe for success with the crowd of nearly 400 gathered at a luncheon at the Hyatt Regency Irvine.
"It has to be a good deal for the customer, it has to be good for your employees, and it has to be good for the shareholders," said Razin. "But if you don't have the third one, the first two don't count, because you'll be out of business."
This year's five honorees passed along their own pieces of wisdom gleaned from starting businesses from scratch.
"Don't sit on your couch; chase your dreams," said Mike Syzmcak of OrigAudio in Costa Mesa, whose portable speaker was named one of Time magazine's list of 50 Best Inventions of 2009.
The best dreams make the best of companies, he said.
Keith Rabin attributed the success of his company, Irvine-based JetSuite, to staying humble and hiring the "best people."
Manu Shah of MS International in Orange took honors for his natural-stone business, which started in the basement of his home with $200 and now includes 23 distribution centers with 13 in North America and four overseas.
Phu Hoang, whose Rancho Santa Margarita-based Virtium Technology is consistently ranked by Inc. Magazine as one of the 500 fastest growing private companies, expressed gratitude that America adopted" him and "provided him with opportunity" to become an entrepreneur.
Debra Hoffmeyer was honored for making CITrials in Costa Mesa a multi-million-dollar clinical research company with five facilities across Southern California conducting trials for some the world's largest drug makers.
Profiles of the winners will appear in the Business Journal's April 1 issue.