Tilly's Shares Off on Q1, Full-Year Outlook
Wednesday, March 20, 2013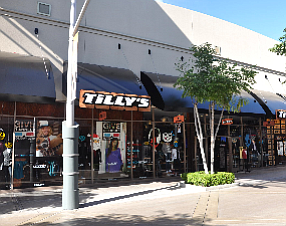 Shares of Irvine-based action sports retailer Tilly's Inc. slumped on the company's outlook for the current quarter and full-year.
The company, which counts 168 stores, was down about 5.5% in after-hours trading on the report.
The retailer said the current quarter, which ends next month, got off to a slow started but has rebounded in recent weeks.
Tilly's said it remains cautious and expects same-store sales increases to in the low- to mid-single digits for the current quarter. The retailer saw a 4.3% increase in the year-ago period.
Net income in the current quarter is expected to be between $1.1 million and $2 million.
That's down from $3.2 million in the year-ago period, and off from the $3.9 million analysts on average expected.
Tilly's cited continuing economic uncertainty as the reason for projecting adjusted net income of $21.5 million to $23 million for full-year 2013. That compares with adjusted net income of $22.9 million in the prior fiscal year.
The outlook followed the company's results for the fourth quarter ended Feb. 2.
Tilly's saw adjusted net income rise 10.8% to $8.9 million.
Analysts on average expected a profit of $8.3 million for the fourth quarter.
Revenue during the quarter rose 14.5% to $140.8 million. That's off slightly from the consensus estimate of $141.1 million.
Same-store sales for the quarter were down 1%.