Reports: Fisker Sales Talks on Shaky Ground
Tuesday, March 19, 2013
Share this article: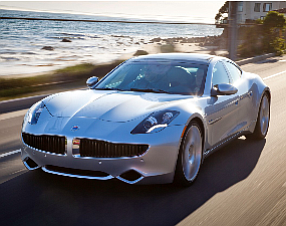 Terms of Fisker Automotive Inc.'s $529 million loan from the U.S. Department of Energy appear to have become a hurdle on a possible sale of the Anaheim-based automaker, according to several reports.
The luxury hybrid automaker has said it is in negotiations with a potential investor but declined to disclose additional information. Recent reports have pegged two China-based companies—Zhejiang Geely Holding Group Co., owner of Volvo, and Dongfeng Motor Corp.— as likely buyers.
Fisker may have been pushing during negotiations for a buyer to tap $335 million remaining from its energy department loan, which would require manufacturing at a factory the company bought in Delaware, according to reports from the Wall Street Journal and Reuters.
A Fisker spokesperson confirmed Tuesday morning that discussions continue with several parties, but declined to comment on whether use of the loan was part of talks.
Fisker had used $193 million of a $529 million loan from the federal agency before the balance was suspended in late 2011, after the company missed sales and production targets for its Karma sedan. Production on the Karma is currently on hold as the company renegotiates a supply contract. Also on hold are plans for a second model called the Atlantic.
Last week saw Fisker co-founder Henrik Fisker resign as executive chairman of the company, citing major disagreements with management over the direction of the automaker. Requiring a potential investor to use the remainder of the DOE loan appears to have, in part, fueled Fisker's resignation from the company, according to a Wall Street Journal report.