STEC Shares Plunge
Friday, March 15, 2013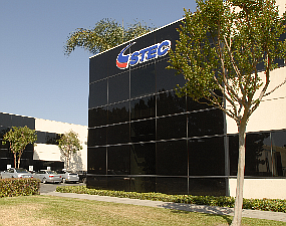 Shares of STEC Inc. slumped in afternoon trading Friday, a day after the Santa Ana-based disk drive maker reported fourth-quarter earnings that missed Wall Street expectations and gave an outlook in the current quarter below estimates.
Shares were down about 11% midday Friday after plummeting more than 11% in after-hours trading Thursday on the weak quarterly performance and guidance. STEC had a recent market value of $227.6 million.
The company posted sales of $35.1 million in the December quarter, down 39.6% from a year earlier.
Analysts on average had forecast sales of $37.7 million.
STEC recorded a net loss of $16.9 million, compared to a net loss of $863,000 a year ago.
Wall Street has expected a loss of $14.8 million.
STEC makes flash memory drives for corporate data networks. The products are known as solid state drives and use chips instead of spinning disks to store data.
The company recorded revenue of $168.3 million in 2012, down 45.4% from 2011. It posted a net loss of $47.8 million, compared to net income of $35.2 million in 2011.
STEC entered 2013 with a proxy fight brewing among dissident shareholders who want to replace the company's entire board.
San Francisco-based Balch Hill Capital LLC, STEC's biggest shareholder with a 9% stake, has been calling for a sale of the company, which it claims has "lost the trust of its key constituents."
Boston-based Potomac Capital Advisors, which has roughly a 1% stake, recently joined Balch Hill in a recent securities filing that contended "shareholder value is at risk without a reconstituted board."
The dissidents have criticized STEC's decision to respond to increased competition by going into new product lines and boosting spending on research and development with little to show.
STEC said it has moved to trim expenses, including a layoff of 65 workers, about 7% of its total. Chief Executive Mark Moshayedi and his brother, Manouchehr, also cut their annual salaries to $1 a year, for a savings of about $3.6 million.
The developments followed the resignation of Manouchehr Moshayedi, who faces insider trading accusations levied by the Securities and Exchange Commission.
The company has made some strides in diversifying its customer base, according to Mark Moshayedi.
It recently notched its first non-OEM customer that generated more than 10% of total company revenue in the second half of 2012.
"We are evolving into a storage systems and solutions provider and away from simply providing components," Mark Moshayedi said.
STEC projects revenue in the current quarter between $21 million and $23 million, well below Wall Street expectations of $38.8 million.
It projects a net loss between $18.6 million and $19.6 million.
Analysts forecast a net loss of $14.89 million.