Fisker Founder Resigns
Wednesday, March 13, 2013
Share this article: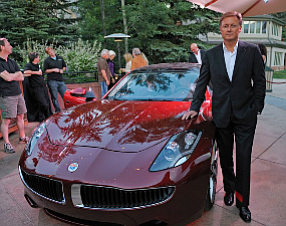 The founder of Anaheim-based luxury hybrid automaker Fisker Automotive Inc. has resigned.
Henrik Fisker's resignation as executive chairman stems from "several major disagreements" over business strategy with the company's management, according to reports from Reuters and Automotive News, both of which cite an e-mail from Fisker himself.
The company confirmed Fisker's resignation and said his "departure is not expected to impact the company's pursuit of strategic partnerships and financing."
The company is engaged in a search for an investment partner, with reports identifying China-based automakers Dongfeng Motor Corp. and Volvo owner Geely Holding Group as potential buyers.
The news comes amid disappointing sales for the automaker, which has put production of its flagship Karma, a sedan priced at about $100,000, and plans for a second model on hold. The halt in production came after the federal government withheld $336 million of a $529 million loan to Fisker after the company missed initial milestones for production, and a more recent shortage of batteries due to a bankruptcy filing by its main supplier.