Midday Stock Roundup
Monday, March 11, 2013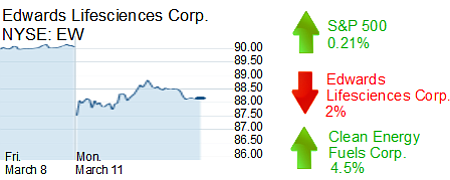 The S&P 500 was up 0.21% to 1,554.40 in afternoon trading Monday.
The Dow Jones Industrial Average rose 0.29% to 14,438.80, while the Nasdaq rose 0.06% to 3,246.33.
The yield on a 10-year treasury bond was up 0.15% to 2.06%.
The price of gold rose 0.04% to $1,577.30 per ounce.
Shares of Irvine heart valve maker Edwards Lifesciences Corp. were down about 2% to $88.15 for a market value of $10.05 billion.
Anaheim drug maker Questcor Pharmaceuticals Inc. was up about 3% to $31.94 for a market value of $1.84 billion.
Shares of Seal Beach-based Clean Energy Fuels Corp. were up about 4.5% to $13.93 for a market value of $1.23 billion. Ascendiant Capital initiated coverage of Clean Energy with a "buy" rating.
Huntington Beach-based Quiksilver Inc. was down about 3% to $6 for a market value of $994.6 million. The company's shares were off 2% last week. Quiksilver reported disappointing results for the first quarter ended Jan. 31 on Thursday.
Newport Beach specialty chemicals maker American Vanguard Corp. was up about 4% to $32.63 for a market value of $928.64 million.