Rockwell Collins Adds to Airbus Work at Tustin Operation
MANUFACTURING: WILL DESIGN, ASSEMBLE RUDDERS, BRAKE PEDALS
Sunday, March 10, 2013
Share this article: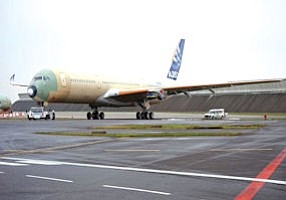 A unit of Rockwell Collins Inc. in Tustin is in line to benefit from the company's latest contract for rudders and brake pedals for Airbus SAS' newest family of twin-engine jetliners.
The OC operation, which employs about 600 people, will handle the design work on those components in the French aerospace manufacturer's A350 XWB models, according to Rockwell spokesperson Josh Baynes.
Mexicali, Other Places
The systems will be built in Mexicali, where the company set up shop about two years ago when it shifted production operations from Irvine.
Other work on the A350 XWB contract will go to Rockwell Collin's headquarters in Cedar Rapids, Iowa, as well as units in Melbourne, Fla., and France.
Rockwell Collins has about $4.7 billion in annual revenue from electronic and communication equipment and various other components for commercial and military aircraft. Its Tustin unit primarily packages music, movies and TV programming for airlines, and has some local hardware manufacturing operations.
Rudders, Pedals
The latest deal to design rudders and brake pedals for Airbus builds on a $2.5 billion contract inked in 2008 to supply A350s with communications, information management, landing and navigational systems.
More than 600 A350 XWBs have been ordered by airlines throughout the world, giving OC's aerospace sector a jolt of business after rounds of job cuts at several of the big companies' operations here in recent years.
C&D Zodiac
The Business Journal last October reported that Huntington Beach-based airplane parts and systems maker C&D Zodiac Inc. was expanding its Orange County operations into Cypress with a seven-year lease at an 85,773-square-foot building.
The building, located at 11240 Warland Drive, houses manufacturing for Airbus' planned A350 aircraft, as well as offices for customer support and after-market divisions consolidated from other local operations.
C&D is responsible for engineering, certifying and building lavatories for the aircraft maker's latest model, which is set to debut later this year as it begins a year of flight tests.
The lighter-weight airplane can seat 200, 300 or 350 passengers.
The first deliveries of the aircraft are slated for next year to Qatar Airways.
In October 2011, the Business Journal reported that Lake Forest-based Panasonic Avionics Corp. landed a $1 billion contract to provide in-flight entertainment systems for Etihad Airways—the national airline of the United Arab Emirates—including outfitting A350s with its eX3 in-flight entertainment systems.
OC Jobs
Rockwell Collins, like other big aerospace manufacturers and suppliers, including Chicago-based Boeing Co., has slashed OC jobs and operations the last few years amid widespread industry consolidation and cost-cutting.
Rockwell Collins, which spun off in 2001 from what's now Rockwell Automation Inc., employed about 1,000 local workers two years ago.
Layoffs and job shifts with the closing of its Irvine operation have trimmed some 400 workers since 2011.
The company got into in-flight entertainment, one of the few growth segments in the industry, by acquiring Hughes-Avicom International in Pomona in 1997 and Irvine-based Sony Trans Com in 2002.
Rockwell Collins had its regional operations in Pomona before moving to Tustin in 2005.