Natural Products Trade Show to Stay in Anaheim Through 2017
Friday, March 8, 2013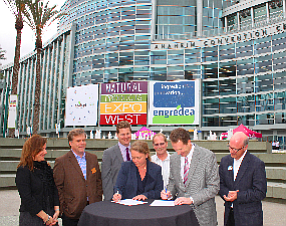 Natural Products Expo West will stay at the Anaheim Convention Center through 2017 after extending its contract on Thursday.
The trade show, which is produced by New York-based Penton Media Inc.'s New Hope Natural Media, inked a four-year deal with the city of Anaheim and Anaheim Convention Center.
Natural Products focuses on showcasing natural, organic and healthy products.
This year's show began its four-day run on Thursday at the convention center.
The show, which has been at Anaheim for 33 years, is using the convention center's recently completed outdoor events space called Grand Plaza. The new space totals 100,000 square feet.
This year's Natural Products Expo West is expected to draw more than 60,000 attendees.