Midday Stock Roundup
Friday, March 8, 2013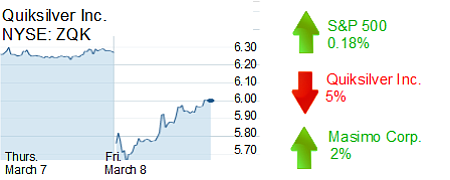 The S&P 500 rose 0.18% to 1,547.06 in afternoon trading Friday.
The Dow Jones Industrial Average was up 0.22% to 14,361.45, while the Nasdaq was up 0.15% to 3,236.97.
The yield on a 10-year treasury bond rose 3.16% to 2.05%.
The price of gold was up 0.07% to $1,575.90 per ounce.
Shares of Huntington Beach-based Quiksilver Inc. were off about 5% to $6, a day after the company reported first-quarter results that fell below analyst expectations. The action sports apparel company had a recent market value of $986.49 million.
Irvine-based medical device maker Masimo Corp. was up 2% to $20.98, continuing a rising trend with the company's shares, which are up 5.5% so far this week. Masimo had a recent market value of $1.2 billion.
Shares of Huntington Beach-based restaurant operator BJ's Restaurants Inc. were up about 2% to $30.65 for a market value of $862.46 million. Restaurant operators were mixed Friday afternoon, after McDonald's Corp. reported February same-store sales down less than what analysts expected.