Seal Beach Sale Sets Office Benchmark at $85M
REAL ESTATE: SD INVESTOR GETS 3 BUILDINGS, EYES MORE HERE
Sunday, March 3, 2013
Share this article: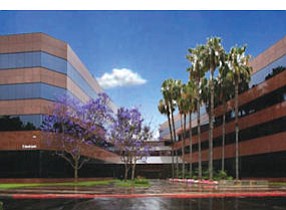 A three-building complex in Seal Beach has traded hands for $85 million, making it the priciest office sale seen in Orange County so far this year.
Parallel Capital Partners Inc., a San Diego-based commercial property investor that started operations about a year ago, said last week that it bought Bixby Office Park, which is just off the San Diego (405) Freeway, next to Seal Beach Boulevard.
The 297,241-square-foot complex, which is said to be 98% leased, traded hands for about $286 per square foot.
Companies that have their headquarters at Bixby Office Park—the largest multitenant office complex in Seal Beach—include Olson Homes, Baker Corp. and Clean Energy Fuels Corp.
Monthly rents at the four-story buildings at the complex run about $2.90 per square foot, according to brokerage data.
It's the first purchase in OC for Parallel Capital, whose executive team previously ran the West Coast operations of The Shidler Group, a Honolulu-based commercial real estate owner that had several office holdings here until a 2008 spinoff.
More deals in the area are possible, according to Matt Root, a Parallel Capital founding partner.
"We see the opportunity to do additional high-quality deals in this region throughout this year and significantly expand the size and value of our portfolio," Root said in a statement.
Other buildings Parallel Capital has bought since last year include offices in San Diego, Los Angeles, Honolulu and Phoenix.
The pricing seen in the Bixby Office Park sale represents a $20 million uptick in the property's value since its last reported change in ownership a little more than two years ago.
Western National Life Insurance Co., an affiliate of New York-based insurer American International Group Inc., is believed to be the last owner of the property. Western National took over the Seal Beach offices and eight other OC properties in 2011 following a series of foreclosure auctions.
The 11-building portfolio—which included office complexes in Newport Beach and Irvine—went for a combined $175 million in 2011. The Seal Beach buildings accounted for $65 million, or about $227 per square foot, in the foreclosure sale, according to court documents.
Below Peak
The $85 million paid by Parallel Capital in the recent sale is still below peak-market pricing for the complex. The 26-year-old property, located on 15.8 acres of land, had just under $91 million of debt tied to it at the time of the 2011 trustee sale.
No other local complexes taken over by AIG in the 2011 transaction—including Redstone Plaza in Newport Beach and Newport Summit in Irvine—have been sold, according to property records.
Last week's Seal Beach deal "is indicative of the improving conditions in the markets in the western United States where Parallel Capital Partners does business," Root said.
The privately held company said last year that it expected to hold on to its properties for three to seven years before selling them.