Kofax Buys Analytics Software Maker
Friday, March 1, 2013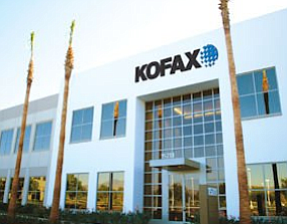 Business software maker Kofax PLC in Irvine has acquired a Pennsylvania company for $13.5 million in cash.
Kofax—which is publicly traded in London but maintains its headquarters here—acquired Altosoft Inc., a business intelligence and analytics software developer.
Its software provides real-time reporting that's billed to enhance Kofax's smart applications and get information to customers quicker.
The privately-held company based outside of Philadelphia in Media, Penn., targets the healthcare industry. It saw revenue of $3.4 million in 2012 and has no debt.
Altosoft Chief Executive Scott Opitz and Chief Technical Officer Alex Elkin, who were majority shareholders, will be retained.

Kofax makes scanning software used by businesses to streamline the flow of information, eliminate paper, speed up productivity, reduce costs and improve customer service.
The company marked a 5% rise in profit to $16 million from continuing business in fiscal 2012, ending June 30.
Revenue hit a company-record $262.5 million, up 8%.