February OC Auto Sales Mixed, Mitsubishi Ends Loss Streak
Friday, March 1, 2013
Share this article: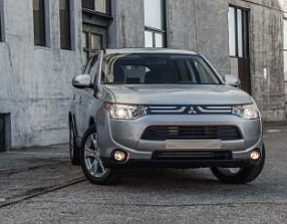 Orange County automakers saw mixed sales results in February as overall sales for the nation continued to climb.
Total U.S. vehicle sales rose 3.7% to 1.19 million vehicles, according to Woodcliff Lake, N.J.-based Autodata Corp.'s online industry researcher Motor Intelligence.
That put automakers on pace to sell 15.4 million vehicles this year for the fourth-straight month that the annualized rate has been above 15 million.
Cypress-based Mitsubishi Motors North America Inc. saw February sales grow 27.8% from a year earlier to 6,051 vehicles, breaking a series of monthly sales declines the company had been attributing to the August 2011 discontinuation of three vehicle models.
Hyundai Motor America Inc., temporarily headquartered in Costa Mesa while its Fountain Valley office is being built, bested itself for the month with 52,311 vehicles sold, up 2% from a year earlier. The company attributed the gains to strong sales of its Sante Fe Sport crossover and Elantra compact sedan.
Other OC automakers saw sales dip during the month.
Irvine-based Kia Motors America Inc. sold 41,505 vehicles, down 7.8% from a year earlier. Kia is set to release three new vehicles and four redesigned models this year.
Mazda North American Operations in Irvine reported vehicle sales down 2.8% during the month to 24,936 vehicles.
Brea-based American Suzuki Motor Corp. sold 1,764 vehicles, down 27.3% from a year earlier. American Suzuki filed for Chapter 11 bankruptcy in November and is selling the remainder of its inventory as it winds down its U.S. auto sales.