REAL ESTATE: SMALL, FULLY LEASED OFFICE GOES FOR $5.4M
PRES Gets $811 Per SF on Von Karman
Saturday, June 29, 2013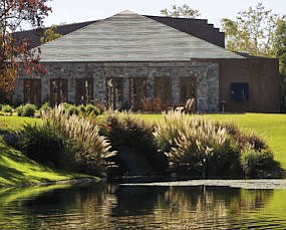 A boutique office in Newport Beach across the street from The Pacific Club has changed hands at one of the highest prices per square foot ever seen in Orange County.
4300 Von Karman, a 6,652-square-foot office that previously served as the headquarters of commercial real estate developer and investor Professional Real Estate Services Inc., recently sold for $5.4 million.
The sale of the single-story building works out to a price of about $811 per square foot and a capitalization rate of just less than 5%.
It's believed to be the highest price per square foot on record for a fully-leased office in Orange County that traded hands for more than $5 million, according to data from Irvine-based Faris Lee Investments, whose brokers worked on the deal.
The average per square foot price for an office sale in Orange County this year is closer to $150, according to brokerage data.
The buyer, an Irvine-based private investor that property records list as Mandarin Investment Group LLC, could claim to have gotten a bit of a bargain, even with the lofty pricing.
The building was originally listed for sale in 2011 by Professional Real Estate Services, which also goes by PRES Cos., at closer to $6 million.
The buyer got a $3.4 million loan from the Los Angeles office of Industrial & Commercial Bank of China to finance the purchase, according to property records.
A new tenant at the office, located in the Koll Center Newport office park, helped push the sale through.
DaVita's Lease
Denver-based DaVita Healthcare Partners Inc., one of the country's largest providers of dialysis, recently signed a 15-year lease there. It plans to move into the space this year after a remodeling.
The medical tenant upgrades are expected to cost close to $2 million, according to Faris Lee's marketing materials for the property.
DaVita, which has a market value of more than $2 billion, is said to be paying a little more than $22,600 per month for the building at the start of its lease. Monthly rent will increase to nearly $30,000 by the end of the lease.
The sale closed at a 4.95% capitalization rate—the expected initial return from rents—the lowest cap for a DaVita-occupied property nationally, according to Faris Lee, whose brokers took over the listing for the property around the time the tenant was signed up.
Nicholas Coo, Matthew Mousavi and Patrick Luther with Faris Lee represented PRES Cos. in the sale.
PRES Cos., which owns other offices and developable land nearby, has moved its headquarters a few blocks away to a location in Irvine. It had owned the building since 2004.
Jack McNutt of Newmark Grubb Knight Frank's Newport Beach office represented the Irvine-based buyer.
"Given the presale variables, including a pending subdivision of the parcel, as well as remaining tenant lease contingencies, the strong pricing is a major achievement," Coo said in a statement.
Other nearby offices for sale include the former headquarters of Newport Beach homebuilder William Lyon Homes.
The two-story, 32,093-square foot building at 4490 Von Karman Ave. is being marketed for sale for about $9.5 million, or about $296 per square foot.