CONSTRUCTION COMPANY TAKES 50,000 SQUARE FEET
Bixby Buys Corona Office From Monster Beverage
Saturday, June 29, 2013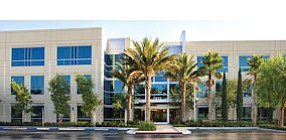 Irvine-based Bixby Land Co. has bought an empty, 75,000-square-foot office building in Corona once eyed as headquarters for Monster Beverage Corp., and has leased a bulk of the property to a construction company.
Bixby paid an undisclosed amount for 2455 Anselmo Drive, a recently built, three-story office on the Riverside (91) Freeway.
Monster Beverage, the juice and energy drink company previously known as Hansen Natural Corp. and one of Corona's largest employers, paid about $9.7 million for the property early last year before the company opted to move its headquarters into a larger, six-story building nearby.
The building is believed to have traded hands last month at a price close to last year's sale.
Bixby's latest investment isn't staying vacant for long.
The real estate investor said it signed on a venture of Atkinson Contractors and Walsh Construction Co. to take up two floors. The 50,000-square-foot lease is valued at $3.2 million.
The Atkinson/Walsh venture is working on a $664 million road improvement project in the area.
Randy Parker and Steve Card of Travers Realty's Newport Beach office represented Atkinson/Walsh in the lease. Rick Ellison and Jeff Chiate of Cushman & Wakefield Inc.'s Irvine office brokered the office sale.
Perris Center
Irvine-based Sares-Regis Group said it's moving ahead on a $40 million industrial project in the Riverside County city of Perris.
The company said it plans to start work soon on SRG Perris Logistics Center, a 580,000-square-foot distribution building near the former March Air Force Base.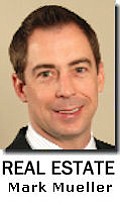 Construction on the 28.8-acre, LEED-certified center should start this summer and wrap up by year-end, according to Larry Lukanish, senior vice president in Sares-Regis' commercial investment division.
The development, at 3900 Indian Ave., is near the intersection of the Escondido (215) Freeway and Ramona Expressway. The distribution corridor has a number of large tenants nearby, including Hanesbrands Inc., which occupies a 1.3-million-square-foot building next to the development.
Thomas Taylor, Steve Bellitti and Summer Colter of Colliers International are marketing the logistics center. The Colliers team also represented Sares-Regis and the property's seller, Chicago-based Ridge Property Trust, in the land acquisition.
Carlsbad Focus
Focus Real Estate LP, a Costa Mesa-based investor whose executive team has ties to the Koll Development Co., has picked up an industrial building in Carlsbad.
The company said it bought a 47,762-square-foot building in a business park about two miles east of the San Diego (5) Freeway. Terms of the sale weren't disclosed.
Prev Next