Pacific Sunwear Rises on Analyst Upgrade
Friday, June 28, 2013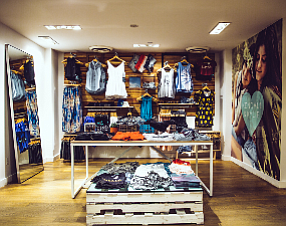 Shares of Anaheim-based Pacific Sunwear of California Inc. jumped Friday, a day after analysts at Wedbush Securities upgraded the company's stock on continuing signs of improvement for the action-sports retailer.
Pacific Sunwear's shares were up about 10% to a market value of $250.36 million.
Wedbush upgraded the company's stock from "neutral" to "outperform," citing a number of factors including the action sports lifestyle "gaining traction" and the continued growth of women's labels in stores.
PacSun began selling the Brandy Melville line in about 100 of its stores roughly six months ago. The women's line got its start in Italy and is inspired by the Los Angeles lifestyle, according to the company. It's sold in about a dozen of its namesake stores and some Bloomingdale's and PacSun stores in the U.S. Pacific Sunwear plans to continue rolling out the line to another 100 stores in the current quarter ending in August.
The company's successes have been helped by the current popularity of bohemian styles, Wedbush analysts Betty Chen and Alex Pham noted in their report.
"This shift away from 'traditional preppy' to 'California lifestyle' is most evident at Pacific Sunwear, where exclusives like 'Los Angeles lifestyle' Brandy Melville and private label Kendall & Kylie offer a point of differentiation," the analysts wrote in their report.
Chen and Pham said in their report that they expect women's comparable sales for the current quarter to be up 8% and raised their 12-month price target from $3.75 to $4.
Wedbush also has an "outperform" rating on the stock of Pacific Sunwear competitors Tilly's Inc. of Irvine and Zumiez Inc. of Lynnwood, Wash.
Pacific Sunwear said it expects earnings ranging from a loss of $3.4 million to a $1.3 million profit for the August quarter.
The company expects revenue of $209 million to $219 million in the current quarter.