Midday Stock Roundup
Tuesday, June 25, 2013
Share this article: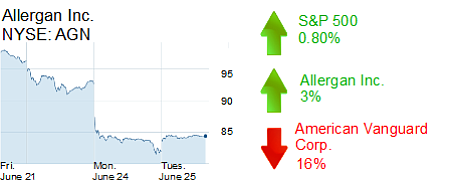 The S&P 500 rose 0.80% to 1,585.69 in afternoon trading Tuesday.
The Dow Jones industrial average was up 0.63% to 14,751.63, while the Nasdaq was up 0.60% to 3,340.84.
The yield on a 10-year Treasury bond rose 1.49% to 2.59%.
The price of gold was off 0.20% to $1,274.30 per ounce.
HEALTHCARE
Irvine-based drug maker Allergan Inc. rose about 3% to $84.39 for a market value of $25.01 billion. The company, which is trading at about two times above its average daily volume, said Monday it appointed Douglas Ingram president. Today's gain follows a 13% decline over the prior two days.
Irvine-based CombiMatrix Corp.'s shares spiked about 53% to $4.13 for a market value of $14.81 million. The company said New York State's Department of Health gave conditional approval of CombiMatrix's chromosomal microarray analysis test for miscarriages.

MANUFACTURING
Newport Beach-based American Vanguard Corp.'s shares slipped about 16% to $23.09 after it provided lower-than-expected guidance for the second quarter. The specialty chemical maker, which attributed the reduced outlook to heavy rains that will affect its agricultural business, had a recent market value of $651.95 million.
TECHNOLOGY
Irvine-based disk drive maker Western Digital Corp. rose about 2% to $59.91 for a market value of $14.16 billion. Western Digital closed down about 1.5% on Monday after it announced plans to buy Santa Ana disc drive storage maker STEC Inc. for $340 million.
REAL ESTATE
Homebuilders were generally up on Tuesday after the U.S. Department of Commerce reported May new home sales up 2.1% from April. Meantime, Lennar Corp. reported better-than-expected second-quarter results.

Irvine-based Standard Pacific Corp. was up about 4% to $8.26 for a market value of $2.87 billion.
EDUCATION
Santa Ana-based for-profit school operator Corinthian Colleges Inc. was up about 6% to $2.26 for a market value of $194.77 million. The company's stock has plunged about 23% since June 10 when Corinthian disclosed in a filing with the Securities and Exchange Commission that the SEC is conducting an investigation into the company.