Golden State Foods Breaks Ground on Illinois Facility
Monday, June 24, 2013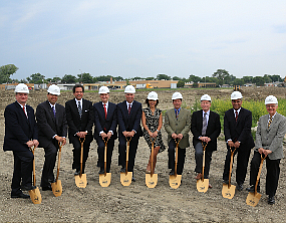 Irvine-based food processor and distributor Golden State Foods Corp. has started construction on a new distribution facility in McCook, Ill., a suburb of Chicago.
Golden State Foods is the second-largest private company based in Orange County. It had $5.8 billion in revenue last year, up 7% from 2011. It employs 4,200 workers companywide, with 55 in OC.
The company supplies meat, produce and liquid products to more than 25,000 fast food restaurants and stores globally. Its customers include McDonald's Corp., Chick-fil-A, Starbucks Corp. and Taco Bell Corp.
The approximately 158,300-square-foot warehouse in McCook is expected to be completed in May 2014 and serve 460 McDonald's restaurants in the Chicago and Midwest region.
Golden State Foods has a 72,000-square-foot facility in nearby Lemont, Ill., with 180 workers. They are expected to shift to the new facility.
The company also recently acquired a distribution center in Lebanon, Ill., which has 160 employees, as part of a growth push in the Midwest.