WANG SEES IRVINE CAMPUS, DIVERSIFIED ELECTRONICS BRAND
Vizio's Vision
Sunday, June 23, 2013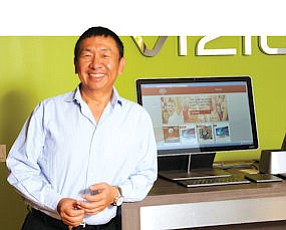 Vizio Inc. is in the early stages of developing a corporate campus in the Irvine Spectrum—a move that's expected to come as the company continues to diversify beyond its core business of flat TVs.
The company has long owned its headquarters at 39 Tesla, a 27,000-square-foot building that hosts most of its 196 local workers. It paid $7.5 million for 35 Tesla, an adjacent building of 33,600 square feet where sales and administrative workers fill less than a quarter of the space, leaving plenty of room to expand.
"We love where we are," said cofounder and Chief Executive William Wang, who can skip the freeway on his commute from Newport Beach. "Irvine is our home. It's so much more convenient for us."
Wang has long had the goal of growing Vizio into a diversified consumer electronics brand—and he's made serious strides.
The company holds the No. 5 ranking on this week's list of largest private companies based in Orange County, with an estimated $3.1 billion in annual revenue (list starts on page 14; related stories, page 1). It still gets the bulk of its sales from flat TVs. But Vizio has scored recent gains with accessories such as sound bars; has lines of desktop and notebook computers on the market; and has a smartphone in development.
The activity comes against a backdrop of a maturing market for flat TVs, which saw sales grow by leaps and bounds during the early days of the adoption of high-definition technology but then saw them wane in recent years.
Accessories
Vizio has offset some of the slowdown with impressive gains in TV accessories such as sound bars. It hopes for another boost from its new smartphone, which was recently released in China—the great global growth market when it comes to consumer electronics, with 189 million smartphones sold in 2012, more than double the prior year, according to Taiwan-based industry tracker DigiTimes Research.
"It's not something we're actively talking about—it's really a test product," Wang said. "Phones are a big market, a lot bigger than TVs."
The company gave a sneak peek of the Android-powered smartphones earlier this year to members of the media, potential new distributors, and customers at the 2013 International Consumer Electronics Show in Las Vegas.
Vizio told the Business Journal at the time that the product was in the final stages of development. And Vizio's recent smartphone release indicates that the company kept to its schedule even though it is keeping mum on early results in China. The company will have to compete with established local players.
Prev Next