REAL ESTATE: SPECULATION CENTERS ON 2 ORCHARD HILLS SITES
New Home Co.'s IPO Could Fund $118M Irvine Land Buy
Sunday, June 23, 2013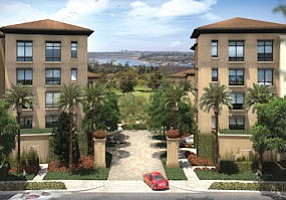 A good portion of the proceeds from Aliso Viejo-based The New Home Co.'s recently proposed initial public offering could be used to fund one of the pricier land buys seen in Irvine in several years.
The privately held company, formed in 2009, filed a registration statement on June 14 to raise as much a $172.5 million in an IPO—making it the fourth Orange County-based builder to either go public or explore going public this year.
A time frame for the builder's IPO has not been disclosed. The company plans to list its shares on the New York Stock Exchange under the ticker "NWHM." The deal's lead underwriters are Citigroup and J.P. Morgan.
The company—whose executive team includes veterans from Irvine Company and defunct builder John Laing Homes—has made waves in Orange County with several high-profile projects since its inception, including Irvine's Lambert Ranch development and Meridian, a high-end condominium project under way in Newport Center.
A focus on land sites in OC looks set to continue, based on a reading of the company's registration statement with the Securities and Exchange Commission.
Land Buys
Net proceeds from the IPO will be used "primarily for the acquisition of land," as well as for development of lots, home construction, and other related purposes, according to the registration statement.
Among the potential land buys for the company, according to SEC filings, are a pair of sites in Irvine that would total 108 lots and sell for a combined $118.2 million.
The average of nearly $1.1 million per home lot is among the priciest noncoastal land deals seen in OC in recent memory.
New Home Co.'s registration statement said the company entered into a letter of intent for the two Irvine developments at some point after April 1, and the SEC filing noted that the proposed deals have yet to close.
Specifics on the land's location in Irvine were not disclosed.
Company officials last week declined to comment on the potential land purchases, citing quiet-period restrictions prior to the company's IPO.
Real estate sources unaffiliated with the company believe the most likely location of those two land deals are the Irvine Co.'s Orchard Hills development.
New Home Co. has been rumored for several months to be a potential builder at Orchard Hills, a high-end home community in North Irvine that's seeing infrastructure work ramp up this year.
Executives at Newport Beach-based Irvine Co. declined to comment on New Home Co.'s potential involvement in the project. They said they weren't planning to announce builders for Orchard Hills for a few months, and that the company is currently focusing its efforts on its recently opened Cypress Village community.
Prev Next