REAL ESTATE: TARGET IRVINE OFFICE PARKS NEAR AIRPORT
Developers Pitch Hotel Projects in Reviving Market
Sunday, June 23, 2013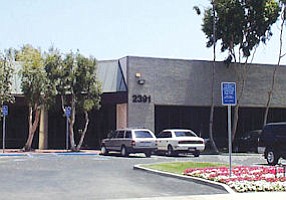 The former Irvine headquarters of chipmaker Microsemi Corp. is being eyed for a potential hotel development, according to city records.
A Costa Mesa-based hotel investor has filed an application with the city of Irvine to build a Hilton Garden Inn Hotel at 2381 and 2391 Morse Road, a roughly 25,000-square-foot office property next to the San Diego (405) Freeway.
It's one of several hotel projects being considered for Irvine office parks to take advantage of increasing business travel in the improving economy.
Specifics of the development, including a timeline for construction, haven't been disclosed.
Other Hilton Garden Inn developments tend to run about 120 rooms and 50,000 square feet or more. The city's planning commission is expected to take up the developer's application in October, according to public records.
The Morse Avenue property changed hands in March for $5.4 million, according to CoStar Group Inc. records.
S3 Hospitality
S3 Hospitality LLC, a Costa Mesa-based hotel investor whose executives also operate under the Pacific Coast Realty Company LLC name, bought the office from a Los Angeles-based investor, according to property records.
S3 Hospitality also runs a Holiday Inn Express Hotel & Suites in Costa Mesa.
The recently sold office long served as the headquarters of Microsemi, Orange County's third-largest chipmaker by employee count. The property is just off Von Karman Avenue, about a mile from John Wayne Airport.
Microsemi moved its headquarters out of Irvine after striking a lease two years ago for a 109,000-square-foot building in Aliso Viejo's Summit office campus about. That deal allowed the growing company to relocate employees from Irvine, Garden Grove and other locations.
An affiliate of Irvine-based DKN Hotels has its own project in the works. It has proposed a Homewood Suites Hotel for a vacant 3-acre site next to the Inwood Park office complex; the hotel would be about a block from the intersection of Redhill Avenue and MacArthur Boulevard.
Executives of DKN, which runs nine other hotels in Southern California, bought the site late last year for an undisclosed price.
The city's planning commission is expected to take up the plans for the extended-stay hotel in August.
Hyatt House
Also on the drawing board: a 149-room Hyatt House Hotel at 2320 Main St., near the intersection of Main Street and Von Karman Avenue.
A time frame for city planners taking up plans for the extended-stay hotel hasn't been announced. The property would go up on a vacant parcel next to Irvine-based LBA Realty's Main Corporate Center office campus, which was put up for sale earlier this year.
Starwood Hotels & Resorts Worldwide Inc. eyed the Main Street site for a 170-room Aloft brand hotel about five years ago, but the project never got off the ground.