Safety Agency Launches Investigation on Two Suzuki Models
Friday, June 21, 2013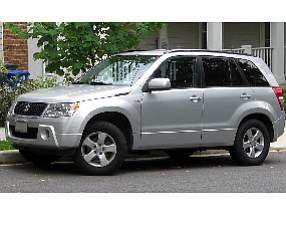 The National Highway Traffic Safety Administration is looking into reported problems that could affect about 205,000 Suzuki vehicles.
The NHTSA investigation is on model years 2006 through 2011 of the Suzuki Grand Vitara compact sport utility vehicle and model years 2007 through 2011 of the Suzuki SX4 compact car.
The agency received 128 complaints related to those vehicles' airbag warning and off lights, along with seatbelt lights.
Suzuki customers were notified of airbag issues related to the Grand Vitara and SX4 last year. The manufacturer extended the warranty for the front passenger seat cushion to 10 years or 12,000 miles.
Brea-based Suzuki Motor of America Inc. no longer sells vehicles in the U.S. or Canada, but most of its dealers remain open to provide service and parts to Suzuki vehicle owners. The company was recently established following the Chapter 11 bankruptcy of the now-defunct American Suzuki Motor Corp.