Hyatt Regency Newport Launches App
Wednesday, June 19, 2013
Share this article: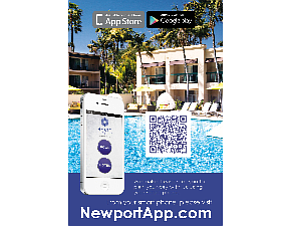 A mobile app from the Hyatt Regency Newport Beach takes guest services digital.
The new app, downloadable through iTunes or Google Play, allows guests to order room service and shuttle pickup along with access to a property map and local area information among other features.
Los Angeles-based software developer Runtriz created the app.
Hyatt Regency recently completed a $15 million renovation that included guest-room remodels and new lounge seating, among other updates.
Aliso Viejo-based Sunstone Hotel Investors Inc. owns the 407-room hotel.
The Hyatt Regency Newport Beach is set to launch its annual Summer Concert Series on Friday, with the first event of the season featuring singer and songwriter Michael McDonald. Tickets are $90 to $110, and the event is expected to be sold out. The concert venue holds 1,000 people.