Kawasaki Launches Campaign Tied to "The Lone Ranger" Movie
Monday, June 17, 2013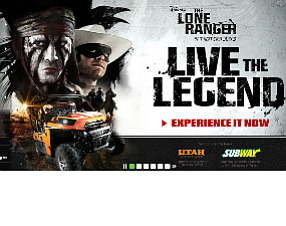 Irvine-based Kawasaki Motors Corp. USA launched a campaign tied to the release of "The Lone Ranger" movie set for its American opening on July 3.
Kawasaki Motors, part of Japan-based Kawasaki Heavy Industries Ltd., makes motorcycles, all-terrain vehicles, side-by-sides and personal watercrafts. The company employs 300 workers in Irvine.
Its latest campaign ties in with Disney/Jerry Bruckheimer Films' "The Lone Ranger," starring actor Johnny Depp.

"This is an opportunity for Kawasaki to generate a great deal of excitement around product categories that are a perfect fit for the film's characterizations," said Kawasaki Marketing Director Chris Brull. "We appeal to the same type of independent, adventurous, rebellious individuals depicted by the film's stars."
The campaign includes a video on Kawasaki's YouTube channel and sweepstakes from Subway Restaurants and "Good Morning America" awarding Kawasaki side-by-sides and helmets.
About 1,000 Kawasaki dealerships will help promote another sweepstakes offering additional Kawasaki products.
A Lone Ranger-designed Kawasaki Ninja ZX-6R sport bike will be on display during the movie premier next month and will later be auctioned off, with proceeds going to the American Indian College Fund.
Kawasaki's "Live the Legend" campaign was created by its Chicago-based agency-of-record Trisect LLC.