Pimco's Product Manager
CUPPS KEY ON NEW FUNDS, LINKS TO WOMEN RECRUITS
Sunday, June 16, 2013
Share this article: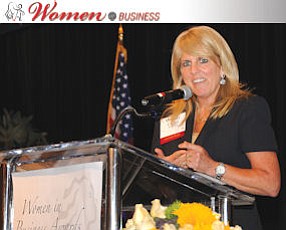 Wendy Cupps joined the world's largest bond-fund manager about 19 years ago as the company was starting to add various investment products to grow beyond its best-known fund.
She now is global head of product management and the most senior female executive at Newport Beach-based Pacific Investment Management Co., which manages more than $2 trillion in total assets, including nearly $300 billion in its flagship Total Return Fund, run by the company's cofounder and co-chief investment officer, Bill Gross.
Cupps has helped launch more than 200 funds for Pimco, including risk-based funds in the middle of the economic crisis and income-generating funds designed to offset relatively low returns from stocks. She currently oversees a team of about 120 in the U.S. and abroad, with about 75 in Newport Beach.
Cupps was among the five honorees who received the Women in Business Awards presented by the Business Journal on June 4 at the Hyatt Regency Irvine (see related stories, pages 4,7, 8 and 10).
No Spotlight
She didn't seek the spotlight when she began her career with a bachelor's degree in math from Bucknell University.
"The truth is, when I was graduating, there was a cover of [a news magazine] that said the highest-paying job with the least amount of stress is to be an actuary," Cupps said.
She moved from her hometown of Philadelphia to work at the Los Angeles office of New York-based consulting firm Mercer LLC, where she spent about four years on the actuarial side before moving on to investing.
"Actuarial work became more internal, and I think I was more of an external, client-seeing type," Cupps said. "So I … was on the investment side for the next six years. That's when I got my passion for that. I wanted to be at the heart of investment, not just manage people who did it. When I made the decision to make the switch, it wasn't too hard to know where to go."
She joined Pimco in 1994 as a "one-off specialist" to manage a new set of investment products the firm was launching to provide a stable income option for 401(k) investors. Cupps and her team built the fund to more than $20 billion in assets under management in a couple of years. Pimco went on to create a product management department and set out to hire specialists for specific investment products.
Pimco's goal at the time was "not … to just continue to grow Total Return … [but] to expand and grow, and help our clients with more things," according to Cupps. "And as we built out more things we invested in, we needed specialists. The account managers couldn't be an expert on all the funds. When it was just Total Return, they could."
Cupps was named co-head of product management in 2005, when the department had 19 investment professionals. She became head of the department in 2009 and continued to build the group, which is now at 82.
Popular Funds
Among the popular funds Cupps has helped create is the Unconstrained Bond Fund, which is relatively free from guidelines and leaves more room for fund managers to reflect their strategic outlooks.
"It's where [the clients] don't really want us to manage to some benchmark, but they want Pimco's best ideas," Cupps said. "Today that's really popular. We went to $25 billion in three years. What it means is that it was really a need that investors had."
She also helped launch Pimco's Global Multi-Asset Fund in 2008. The fund weighs risk factors rather than direct how much to allocate into bonds, stocks and cash, "because all those things were performing poorly at the same time" during the recession.
"We had navigated that period very well, partially because we have a bond focus," Cupps said. "We were able to be on the offense, coming out with new products in a time others weren't able to do that."
Cupps continues to help push along Pimco's launch and development of investment products here and abroad.
"If you look at the number of funds, we may have a fund in the U.S. and a version in the U.K. or in Hong Kong," she said. "I don't count those as three. But each year we launch about 30 new funds. Some are clones of other strategies, just in different markets. It's kind of an evolution. We really started to build out all the different sectors that became businesses on their own."
Pimco Foundation
Cupps also serves as treasurer of the Pimco Foundation, which has about $70 million in assets.
She oversees the grant and monitoring processes. She's also part of the Volunteer Steering Committee and has led the Pimco team in participating in the Race for the Cure by Susan G. Komen Orange County, as well as in the Sparks of Love toy drive, for which Pimco has become one of the largest donors in OC.
Pimco also holds a week-long volunteer program each year, during which employees globally are encouraged to participate in local charitable work.
Watch Mom Work
Cupps said jokingly that her two teenage daughters may not fully get what their mom does at work.
"That's partly why my husband did this nomination [for the Women in Business award]," she said. "He wanted to show them the success you can have and why am I doing this."
Her daughters get a chance to see more of their mom's work personality when she opens their home to host potential Pimco hires, providing a chance for them to meet Gross and Pimco Chief Executive Mohamed El-Erian.
"I host an event every year at my house," Cupps said. "We have a women's event for two days, where we bring young women in from different schools, and they get to meet Mohamed and Bill, and we train them. We're making sure we're attracting women from undergrad and graduate school."
Pimco is even more concerned when it comes to hiring and promoting women in higher levels of management, Cupps said.
"At the higher level, we're focused a little more … about whether we have diversity in the decision-making group," Cupps said. "I think the numbers are fine at the entry level. We've made a lot of progress, but we still have a long way to go. We find that women aren't sometimes as good at promoting themselves. We're helping women with mentoring and other leadership programs."