ALLERGAN EXEC'S CAREER DIDN'T 'JUST FALL OUT OF THE SKY'
Mission Control
Sunday, June 16, 2013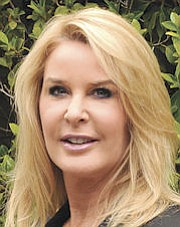 Lynn Salo learned that "you have to take control of your career" when she got started with Irvine-based drug maker Allergan Inc.
"The company can give you opportunities, but you have to manage your career," she said. "What I've learned with experience and wisdom is that you have to articulate what it is you want in your career—it doesn't just fall out of the sky on your lap."
Salo is vice president of sales and marketing for Allergan division Allergan Medical's facial aesthetic unit. She has a team of 300 people and leads sales and marketing efforts for Botox Cosmetic and Juvéderm, a lower-face filler.
She was one of five executives and entrepreneurs honored at the Business Journal's 19th annual Women in Business awards luncheon June 4 at the Hyatt Regency Irvine (see related stories, pages 1, 7, 8 and 10).
Salo said she learned to become a stronger networker and to get better at letting her supervisors know about her goals as she moved up the executive ranks.
"I think this is where men are different—men are much more overt about their career aspirations and much more overt about their networking as it relates to their career direction," she said. "And I think that's where women could improve."
Salo's journey with Allergan, which has more than $5 billion a year in sales, began 26 years ago when she started as a sales representative for the drug maker in her native Canada.
"I was selling our ophthalmic products. I only did that for about two years," she said. "It was one of those things where I knew I wanted to be in marketing as soon as I saw the marketers talk about the products and the strategies."
She was later promoted to associate product manager, a position she said allowed her to learn the marketing side of the business.
Her big break came when Allergan acquired a product in 1988 then known as Oculinum. It's now known as Botox and brings in more than $1 billion a year in sales for therapeutic and cosmetic uses.
Salo had marketed Oculinum for a pair of eye conditions, strabismus and blepharospasms. Strabismus, found in children, is a misalignment of the eye, while blepharospasms are found in adults and are what Salo called a "functional blindness."
"People clamp their eyes closed …," she said. "They have no control of the closure of their eyelids; they're spasming."
Prev Next