Asics Gets Ahead
IRVINE-BASED BRAND HAS LAPPED EXPECTATIONS ON SALES
Saturday, June 8, 2013
Share this article: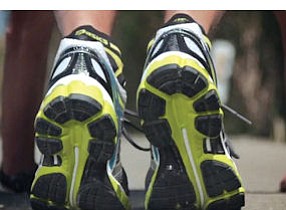 Asics America Corp. is running ahead of schedule.
The Irvine-based company, best known for its namesake brand of athletic shoes, expects to hit $1 billion in sales next year, according to Chief Executive Kevin Wulff. That's a year earlier than called for in a five-year growth plan Japan-based parent Asics Corp. laid out in 2010, when the company was muddling through the recession.
The quick pace of growth since then tracks in part to a product lineup that's gone beyond its core stable of running shoes in the past three years, with new offerings for categories such as tennis and training, and more apparel and accessories.
A focus on what Wulff called the "epicenter of our brand" has been just as important.
"They figured out that doing consistent, authentic running shoes is key," said Larry Eder, an avid runner and president of Running Network LLC, publisher of 23 print titles and 29 websites focused on the sport. "The shoe doesn't have to be sexy, but it better be good. That's why their users—men and women—that's why they come to Asics."
No Shortage
There's no shortage of choices.
Asics runs in a pack dominated by big names in the athletic footwear and apparel industry, beginning with Beaverton, Ore.-based Nike Inc., which does about $3.5 billion of the overall $8.5 billion in North American sales of running shoes, Eder said.
His company tracks Asics, along with nearly 50 other brands that compete for the same customers, including New Balance Athletic Shoe Inc., Saucony LLC, Berkshire Hathaway Inc. subsidiary Brooks Sports Inc. and adidas Group.
Eder said Asics' recent hot streak follows a stumble during the recession, when the company "kind of took their eyes off the ball."
Wulff came on board in 2010 to succeed former Asics America President Rich Bourne.
Wulff brought with him industry experience, having run Los Angeles-based Pony Inc. He also spent time at Nike and American Sporting Goods Corp., formerly of Aliso Viejo.
Wulff went to work concentrating on strengthening relationships with retailers, and built a new department in Irvine dedicated to growth of the company's Onitsuka Tiger brand.

The five-year growth plan Asics Corp. announced in late 2010 calls for global sales to reach $3.9 billion in fiscal 2015, with footwear accounting for 73%, apparel 21%, and the rest of sales rounded out with equipment.
Asics America's headquarters in Irvine oversees the company's Americas division, which consists of the U.S., Canada and Latin America. The division saw its sales increase 13.7% to $654.89 million for the year ended March 31, according to Asics Corp., which is traded on the Nikkei Index in Japan. The Americas division's net income rose 28.1% to $46.34 million.
Sales Goal
The current expectation that Asics America will meet its $1 billion sales goal a year early has it reaching further under its parent's five-year plan. It now is expected to bring in about $1.25 billion by 2015, with more than $1 billion coming from the U.S. alone, Wulff said.
It will stick to basics as it pushes to meet the upward revision.
"The greatest focus is on product innovation to fuel that growth and to reach new consumers and continue to create new focus on the running category," he said.
The latest version of the light-weight running shoe called the Gel-Nimbus 15 recently launched, and the 20th edition of the Gel-Kayano will launch this year.
Other categories that have seen growth for Asics America include training and tennis.
Footwear still makes up most of the company's revenue, although Wulff declined to cite a percentage.
Apparel and accessories is much smaller but has the potential to be a "huge growth opportunity" that "will become a more meaningful part of the business," Wulff said.
Take socks, which have allowed for growth in popularity of companies such as San Clemente-based trendy stock maker Stance.
The focus for Asics has been more on the technical side instead of styles inspired by punk rock and the Wild West, as in the case of Stance.

"There are new materials, new wicking properties, treatment that helps with odor," explained Asics America Marketing Director Shannon Scott. "Really, the secret is that they're knitted on hosiery machines for seamless toe linking. We started marrying the functions of our footwear with the socks."
That means, for example, that there's a Kayano sock to go with the Gel-Kayano shoe.
The goal isn't to make the split between footwear and apparel/accessories 50/50 but that the latter will grow, Wulff said.
New styles for the Onitsuka Tiger line are also helping boost sales.
In 2011, Wulff assembled a separate division in Irvine for Onitsuka Tiger made up of executives with experience working at brands such as AVIA, Reebok, Timberland and Oakley.
Onitsuka's Origins
Onitsuka, named after company founder Kihachiro Onitsuka, was originally sold from the 1950s to the '80s with its distinctive striped-line design.
The company relaunched the line in 2001 as a way to nab market share in the fashion/lifestyle segment of the footwear industry, bringing a new, younger customer to the brand ranging from 18 to 35.
"We call it making stripes hot again," Wulff said.
Sales of Onitsuka are up in the "very strong double digits, and we expect to continue growth," Wulff said.
The 225 workers at the company's Irvine headquarters have supported the recent growth.
The company has 460 total employees in the U.S.
It made a bold move on the marketing front earlier this year, when Asics America moved up from being last year's official apparel and shoe sponsor to title sponsor of the newly renamed Asics LA Marathon, held in March. The multimillion-dollar investment gave the brand major play and solidifies the company's place in the running world on both coasts. Asics is also a sponsor of the New York City Marathon.
Asics America currently counts on various sporting goods chains and specialty retailers—Sports Authority, Foot Locker and others—for most of its retail sales. Now the company is working to grow its retail lineup. It has only one company-owned store, in New York City, with plans to grow that part of the business.
Wulff said the company will unveil details in the coming months.
Brand Identity
The challenge, as Asics America continues to grow, will be retaining its brand identity, Eder said.
"For them to succeed in the future, innovation's got to be key, but they also need to remember where the bread and butter is. Running is still their biggest business," he said. "When a brand decides, let's try some new things, and they don't support the people who supported them, that's when brands get hurt."
It's a finer point Wulff recognizes.
Onitsuka will continue to be the fashion/lifestyle brand, while the company's namesake will remain associated with performance.

"… we will never compromise innovative performance product," he said. "There's always that link to performance products, no matter what category, what athlete or enthusiast is using our product."