IRVINE-BASED BRAND HAS LAPPED EXPECTATIONS ON SALES
Asics Gets Ahead
Saturday, June 8, 2013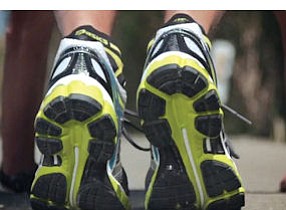 Asics America Corp. is running ahead of schedule.
The Irvine-based company, best known for its namesake brand of athletic shoes, expects to hit $1 billion in sales next year, according to Chief Executive Kevin Wulff. That's a year earlier than called for in a five-year growth plan Japan-based parent Asics Corp. laid out in 2010, when the company was muddling through the recession.
The quick pace of growth since then tracks in part to a product lineup that's gone beyond its core stable of running shoes in the past three years, with new offerings for categories such as tennis and training, and more apparel and accessories.
A focus on what Wulff called the "epicenter of our brand" has been just as important.
"They figured out that doing consistent, authentic running shoes is key," said Larry Eder, an avid runner and president of Running Network LLC, publisher of 23 print titles and 29 websites focused on the sport. "The shoe doesn't have to be sexy, but it better be good. That's why their users—men and women—that's why they come to Asics."
No Shortage
There's no shortage of choices.
Asics runs in a pack dominated by big names in the athletic footwear and apparel industry, beginning with Beaverton, Ore.-based Nike Inc., which does about $3.5 billion of the overall $8.5 billion in North American sales of running shoes, Eder said.
His company tracks Asics, along with nearly 50 other brands that compete for the same customers, including New Balance Athletic Shoe Inc., Saucony LLC, Berkshire Hathaway Inc. subsidiary Brooks Sports Inc. and adidas Group.
Eder said Asics' recent hot streak follows a stumble during the recession, when the company "kind of took their eyes off the ball."
Wulff came on board in 2010 to succeed former Asics America President Rich Bourne.
Wulff brought with him industry experience, having run Los Angeles-based Pony Inc. He also spent time at Nike and American Sporting Goods Corp., formerly of Aliso Viejo.
Wulff went to work concentrating on strengthening relationships with retailers, and built a new department in Irvine dedicated to growth of the company's Onitsuka Tiger brand.

The five-year growth plan Asics Corp. announced in late 2010 calls for global sales to reach $3.9 billion in fiscal 2015, with footwear accounting for 73%, apparel 21%, and the rest of sales rounded out with equipment.
Asics America's headquarters in Irvine oversees the company's Americas division, which consists of the U.S., Canada and Latin America. The division saw its sales increase 13.7% to $654.89 million for the year ended March 31, according to Asics Corp., which is traded on the Nikkei Index in Japan. The Americas division's net income rose 28.1% to $46.34 million.
Prev Next