Midday Stock Roundup
Tuesday, June 4, 2013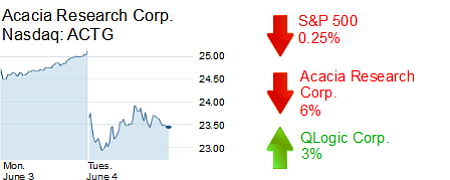 The S&P 500 slipped 0.25% to 1,636.36 in midday trading Tuesday.
The Dow Jones industrial average was down 0.26% to 15,214.66, while the Nasdaq was off 0.20% to 3,458.30.
The yield on a 10-year Treasury bond rose 0.42% to 2.14%.
The price of gold fell 1.12% to $1,396.10 per ounce.
TECHNOLOGY
Newport Beach-based Acacia Research Corp. fell about 6% to $23.62 after the Wall Street Journal reported new efforts to create more stringent standards on companies that collect patents to generate licensing revenue. Acacia had a recent market value of $1.16 billion. Patent licensing companies, including VirnetX Holding Corp. and RPX Corp., were generally down on Tuesday.
Shares of Aliso Viejo-based networking-equipment maker QLogic Corp. rose about 3% to $10.15 after the company announced a restructuring plan that includes cuts in the company's workforce, engineering consolidation and a boost in product development over the next 12 months. QLogic had a recent market value of $903.77 million.
REAL ESTATE
Irvine-based homebuilder Standard Pacific Corp. fell about 3% to $8.46 for a market value of $2.94 billion. Homebuilders continued to fall on Tuesday, despite the latest figures released by the Department of Commerce Monday that showed construction up in April after falling in the prior month.